John McCain Explains Why The GOP Is Against 'Every Single Person' Obama Nominates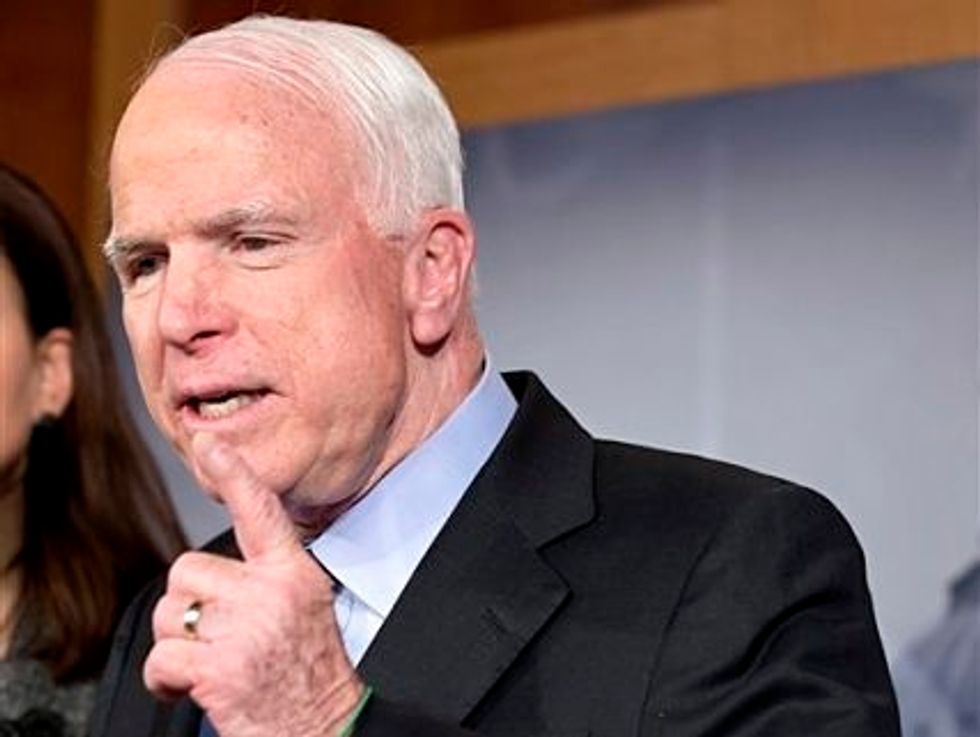 During a Sunday morning appearance on CBS' Face The Nation, Arizona senator John McCain suggested that his fellow Senate Republicans have opposed almost all of President Barack Obama's cabinet appointees because the White House did not call ahead and ask for their approval.
"Correct me if I'm wrong, but I can't remember a time when the opposing party has opposed every single person that the president nominates for his cabinet," host Bob Schieffer said to McCain. "It's usually been the rule if the president is going to be in charge of the government, we have to give him the people he wants to run it."
McCain replied by arguing that "usually with previous presidents, both Republican and Democrat, when they're considering nominations, they call in the other side and say 'Hey, I'm thinking about nominating Mr. X, what do you think about it?'"
"There's been none of that in this administration," McCain added.
Video of the exchange is below, via Mediaite

McCain's claim is problematic for two reasons. First, presidents need not ask the other party's permission before nominating key cabinet members; if they did, President George W. Bush would never have nominated U.N. Ambassador John Bolton, or Attorney General John Ashcroft (among many other Bush administration officials who were hated by the left). If McCain and the Republicans wanted to choose the president's cabinet, then they shouldn't have lost the past two presidential elections.
Second, it's unclear who exactly President Obama could convince Senate Republicans to approve of. Defense Secretary nominee Chuck Hagel — who was the main focus of McCain and Schieffer's discussion — served two terms as a Republican senator, and has been praised effusively by many of the same senators who now vow to oppose his nomination. In fact, as Schieffer pointed out, he even served as a co-chair of McCain's presidential campaign.
If McCain's opposition to the White House is so strong that can't bring himself to confirm a man who he once said he would be "honored" to have in his own cabinet, then it seems unlikely that a friendly heads-up from President Obama could have changed his mind.
Photo credit: AP/J Scott Applewhite, File