Justice Department Vigorously Pursuing Trump's Coup Conspiracy
@DevilsTower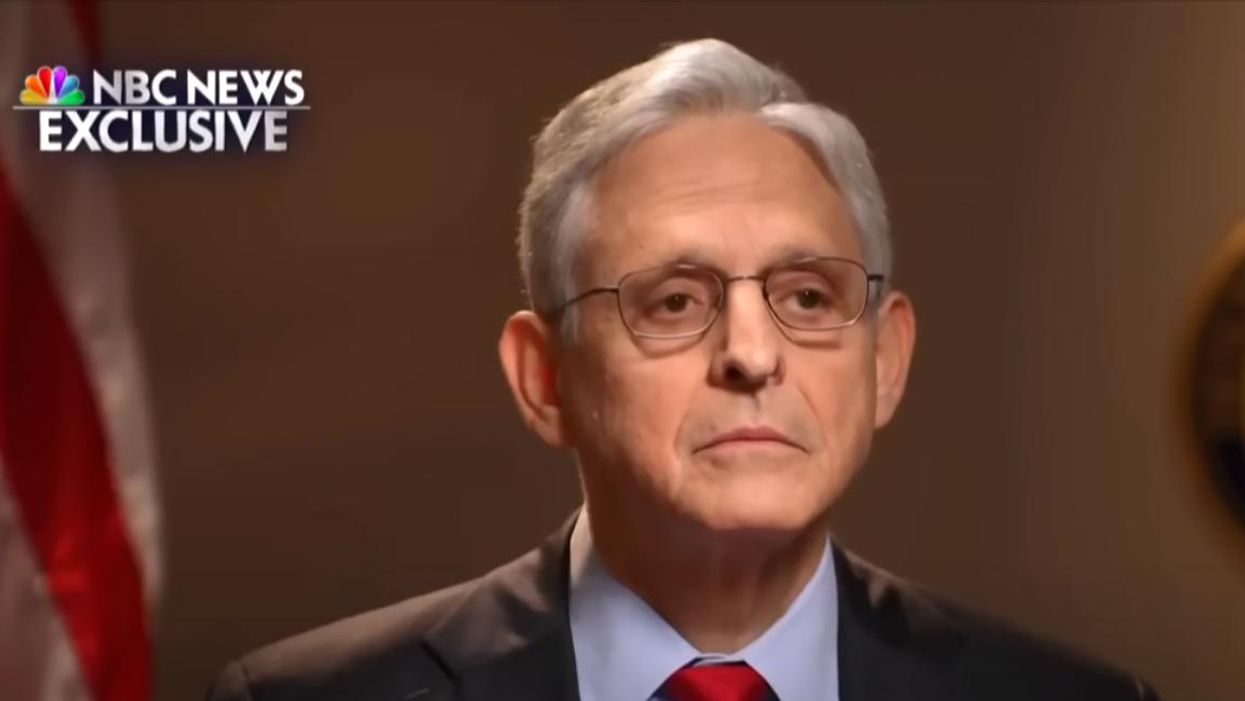 YouTube Screenshot
Earlier on Wednesday, Brandi Buchman reported on a Washington Post story revealing that the Department of Justice is investigating Donald Trump as part of a criminal probe into efforts to overturn the 2020 election. That investigation has involved questions put to false electors brought before a federal grand jury, and interrogation of top aides to Mike Pence, who were recently seen strolling out of the Washington, D.C., federal courthouse.
But one detail of the story in that report is something that a number of outlets seem to have overlooked, and which has considerable implications: While the questioning of these witnesses before the grand jury may be a recent occurrence, the investigation itself is not.
The original Post story mentions that the Justice Department (DOJ) was looking into the phone records of "key officials and aides in the Trump administration" back in April. Including records of former Chief of Staff Mark Meadows. This indicates that, rather than following in the footsteps of the House select committee on Jan. 6, the DOJ has actually been paralleling their effort all along, if not actually getting in front. The way in which some of these questions are being framed also suggests that the investigation may be broader than just the specifics of the Jan. 6 plot.
The DOJ has been building its case against Trump and other White House officials well before the first public hearing of the House committee, and it's continuing to flesh out that case with witness testimony. The fact that witnesses like former Pence chief of staff Marc Short are being called before that jury could indicate that the DOJ is well along in their investigation—and the fact that those witnesses are being asked specifically about statements and intentions from Trump—gives a good indication of the investigation's direction.
On Wednesday, federal prosecutor Thomas Windom revealed a new warrant for Trump attorney John Eastman. Connected with this is something that was seen in a "manual screen capture" of Eastman's phone, obtained by an "agent not associated with the investigation team." What this means is puzzling, but it's enough to have Eastman's phone, and a copy of that screen capture, locked up in Virginia for an examination.
Politico indicates that this is a precursor for a search of Eastman's phone that will be done using a "filter protocol" so that only those messages associated with keywords or phrases are viewed by agents.
Eastman was the primary author of the legal pretense behind the Jan. 6 scheme, but some of those questioned by the grand jury, including some false electors, were also involved in earlier versions of Trump's attempted overthrow of the 2020 election. The investigation may also be looking into those parts of the plot that involved efforts to sabotage the certification of electors in December, as well as efforts to spread false information to state and federal courts.
The violence on Jan. 6 is the visible portion of what was a much more extensive plan, and Jan. 6 was itself just one of several efforts that Trump and his team made to overturn the election. Many of these plans were started well before Trump lost the 2020 election.
That the only visible portion of the DOJ investigation until recently has been the tip of the iceberg is certainly frustrating. And Attorney General Merrick Garland apparently was aware of that feeling when, as NBC News reports, Garland "spoke more expansively" about the DOJ activities on Tuesday evening than he has in the past. He also didn't shy away from a direct comparison to the work being done by the House committee.
"Look," said Garland, "the Justice Department has been doing the most wide-ranging investigation in its history. And the committee is doing an enormously wide-ranging investigation, as well. It is inevitable that there will be things that they find before we have found them. And it's inevitable that there will be things we find that they haven't found. That's what happens when you have two wide-ranging investigations going on at the same time."
And honestly … that's hugely relieving. Nothing that Garland said seemed to contain the kind of narrowly focused, blinders-firmly-in-place language we've heard in the past.
But of course Garland's statements were reassuring, especially when NBC's Lester Holt did everything possible to frame the situation in the worst way possible.
Holt: "The indictment of a former president, and perhaps a candidate for president, would arguably tear the country apart. Is that your concern as you make your decision down the road here, do you have to think about things like that?"
Garland: "We intend to hold everyone, anyone who was criminally responsible for the events surrounding Jan. 6, for any attempt to interfere with the lawful transfer of power from one administration to another, accountable. That's what we do. We don't pay any attention to other issues with respect to that."
Really, that's all we needed to hear. It's a shame we're only hearing it now.
Reprinted with permission from Daily Kos.