McConnell Helps Trump To Impose Government Shutdown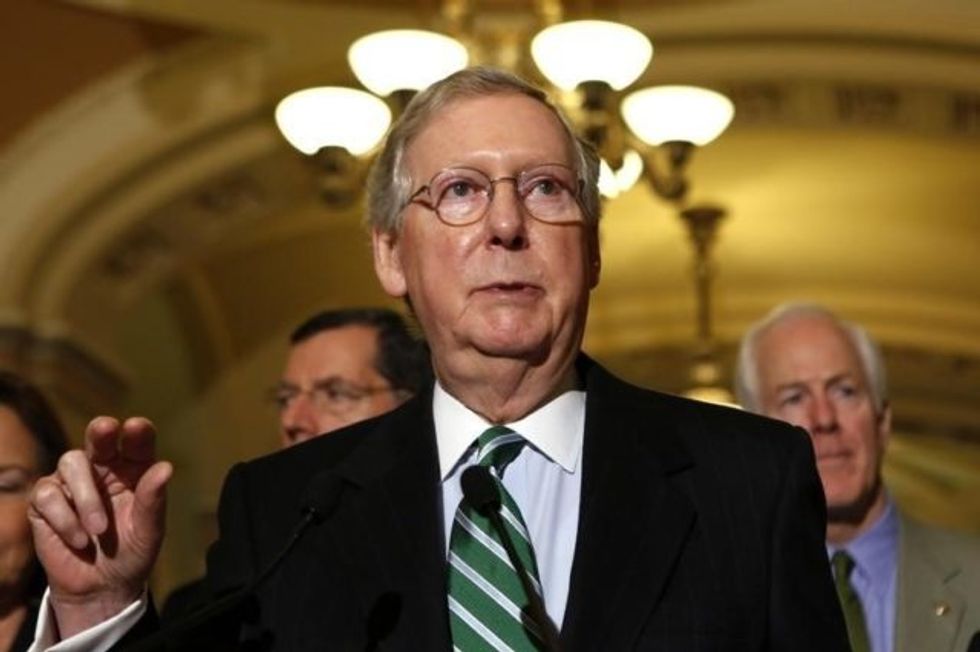 Reprinted with permission from Shareblue.
UPDATE:
The federal government shut down Friday due to the budget impasse in Washington, as Republicans enabled President Trump in his demand for an additional $5 billion for a border wall he had promised would be funded "by Mexico."
"Call it a Democrat shutdown, call it whatever you want," Trump said in a video released after the House and Senate adjourned for the night without a deal.
"Let's work together, let's be bipartisan and let's get it done. The shutdown hopefully will not last long," he said.
Trump had urged Senate Majority Leader Mitch McConnell (R-KY) to use the "nuclear option" to pass the budget without Democratic votes, but that appears highly unlikely. Senate Minority Leader Chuck Schumer (D-NY) and House Minority Leader Nancy Pelosi (D-CA) said that Trump — who had earlier boasted he would be "proud" to shut down the government over his wall — said the president has "gotten what he wanted."
In a sign of servile complicity,  McConnell succumbed to Trump's demands and forced the Senate to vote earlier Friday on a doomed spending bill containing $5 billion marked for a wall on the U.S.-Mexico border.
Trump has thrown multiple tantrums in recent weeks, threatening to shut down the government if he does not receive a $5 billion ransom to pay for a border wall he once promised Mexico would pay for. Funding for much of the federal government expires at midnight on Friday, Dec. 21.
In yet one more act of capitulation, failed Speaker Paul Ryan (R-WI) abandoned plans to support a clean continuation of funding that the Senate unanimously passed on Wednesday night. Ryan, a Trump loyalist to the bitter end, forced a vote with funding for the wall, which passed the House, although no Democrats supported it.
After a Friday morning meeting with Trump, McConnell returned to the Senate floor to parrot Trump's talking points about the wall.
He said "physical barriers play an important role in achieving security," even though experts maintain a wall is a waste of money.
The plan for the vote and likely shutdown did not sit well with senators.
"Pres Trump had a temper tantrum & now we're headed toward a completely unnecessary shutdown," tweeted Sen. Patty Murray. "This is truly absurd & no way for a country like ours to be run."
Sen. Brian Schatz (D-HI) returned from Hawaii to vote against, in his words, "this stupid wall."
Even Republican senators were skeptical. Retiring Tennessee Sen. Bob Corker accused Trump and McConnell of kowtowing to the "tyranny of radio talk show hosts," a reference to far-right conservatives like Rush Limbaugh pushing Trump to shut down the government if he doesn't get funding for the wall.
Trump bragged recently that he would be "proud" to own the shutdown if he did not get his way on the wall funding. In a sharp reversal, Trump is now desperately trying to blame Democrats in the event of a shutdown, even though Democrats support a clean bill to fund the government through Feb. 7.
The American people weighed in, with a poll showing the public will blame Trump and the GOP if the government shuts down just days before Christmas.
After the all-but-certain failed vote in the Senate, Trump and Republican leaders McConnell and Ryan will need to decide if and when they want to shut down the government, and for how long.
If they can't come to an agreement, the Trump Shutdown will commence at midnight.
Published with permission of The American Independent.