Obama's Immigration Conundrum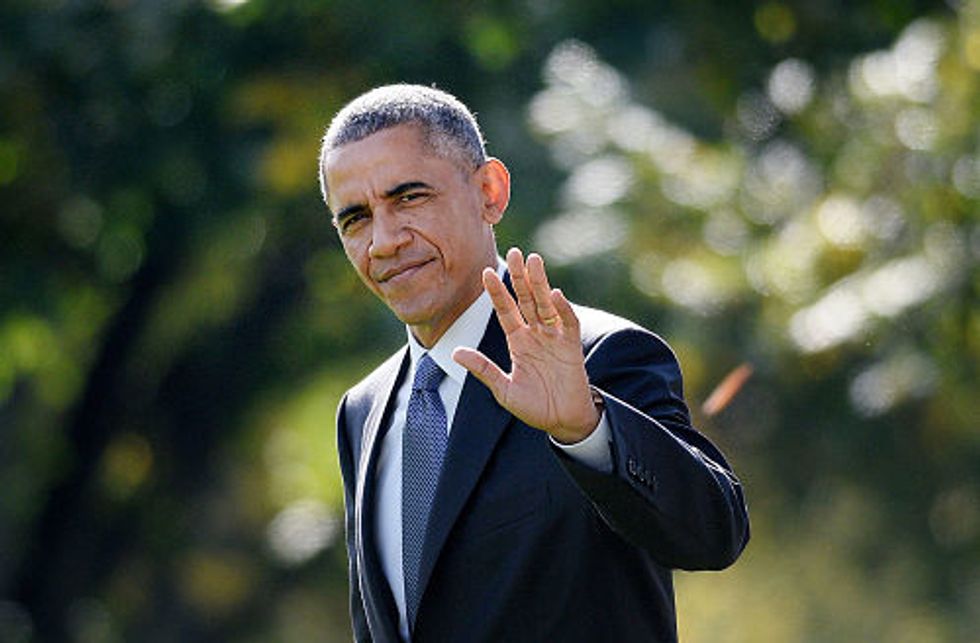 President Obama is tired of waiting. The chances of House Republicans passing an immigration reform bill by the end of the year are slim to none, and Obama has promised to act if they don't. So the only real uncertainties are how many immigrants who came here illegally will benefit from whatever Obama does on his own, and how long the GOP firestorm will last.
I don't use the word "firestorm" by accident. Rarely has an issue ignited such a unified eruption of metaphor in a political party. "When you play with matches, you take the risk of burning yourself," said House Speaker John Boehner. "The president cannot sign that executive order. He's going to light a fuse," said former House Majority Leader Eric Cantor. "He'll be throwing a barrel of kerosene on a fire if he signs an executive amnesty order," said Republican National Committee chairman Reince Priebus. Future Senate Majority Leader Mitch McConnell was slightly off message, but not much, with his assertion that Obama taking executive action would be "waving a red flag in front of bulls."
All of that raises an interesting question of governing style. WWRD? What would a Republican do?
The answer seems fairly straightforward. In 2000, George W. Bush won a half-million fewer votes than Al Gore nationwide. His winning margin in Florida, the state that put him over the top, was 537 votes out of more than 6 million cast. Those votes may well have been the result of a Palm Beach County ballot so confusing that many Jewish voters accidentally chose Patrick Buchanan — well known for insensitive Holocaust remarks — instead of Gore. Bush also might have lost Florida and the presidency had the Supreme Court not intervened to stop a recount.
Talk about a problematic "victory." But I don't recall Bush consulting with Gore on his agenda or adopting any of Gore's ideas. Instead he steamed ahead with his own campaign platform, just as if he had scored a decisive win. That is how we got the No Child Left Behind Act that has sparked controversy along with accountability in education. That is also how we got the deep tax cuts that created structural deficits and are still helping to drive up the federal debt.
Bush governed as if he had a mandate and some Democrats went along, helping him pass his education and tax initiatives and backing his push for authority to invade Iraq. Contrast that with Obama's sweeping 7-point win in 2008. Republicans were outraged when he spent many months trying to pass health reform, a major pillar of his platform. White House press secretary Josh Earnest raised a provocative point last week when he said you could consider it "playing with fire, or waving a red flag in front of a bull," of GOP plans to vote for the 50th time to repeal the Affordable Care Act.
During Obama's first two years in office, Republicans found health reform a convenient way to attack him for allegedly neglecting his recession responsibilities. Where were the jobs? they demanded. Why wasn't he focusing like a laser on the economy? Whether they had a point or not, it is amusing to recall that critique now as Republicans charge that Obama also should have tried for immigration reform during that period, when Democrats had House and Senate majorities. "He didn't do it when he had the opportunity," Priebus said last week at a Christian Science Monitor breakfast.
In reality, Republicans have never treated Obama as if he had a mandate, even as they claim their own mandates after midterms shaped by variables ranging from gerrymandering and restrictive voting laws to weak candidates and low turnout. Immigration action, they say, would flout the midterm election results. "This was all a direct rejection of the Obama agenda," Priebus said, adding that voters "want nothing to do with the policies of Barack Obama." Yet while voters in some cases may have been rejecting Obama himself, in several states they approved the "Obama agenda" on abortion rights, paid sick leave, expanded gun background checks and a higher minimum wage.
If we're going to debate mandates, it is true that Republicans won the midterms convincingly. But it's equally true that Obama was elected by a whole country, not just one state or House district; he was elected not once but twice, and in both campaigns he championed comprehensive immigration reform that includes a path to citizenship for millions of people.
Given the failure of the Republican-controlled House to consider immigration reform, including a bipartisan overhaul passed by the Senate, Obama's options are passive waiting or executive action. Bill Clinton once said that in politics, "strong and wrong" sometimes prevails over "weak and right." On immigration, Obama would be strong and right. He should make his move.
Follow Jill Lawrence on Twitter @JillDLawrence. To find out more about Jill Lawrence and read features by other Creators Syndicate writers and cartoonists, visit the Creators Syndicate website at www.creators.com.
Photo: President Barack Obama departs the White House to travel to Portland, Maine on Oct. 30, 2014 in Washington, D.C. (Olivier Douliery/Abaca Press/MCT)
Want more political news and analysis? Sign up for our daily email newsletter!