In Praise Of Politics (Talking to You, Ferguson and Washington)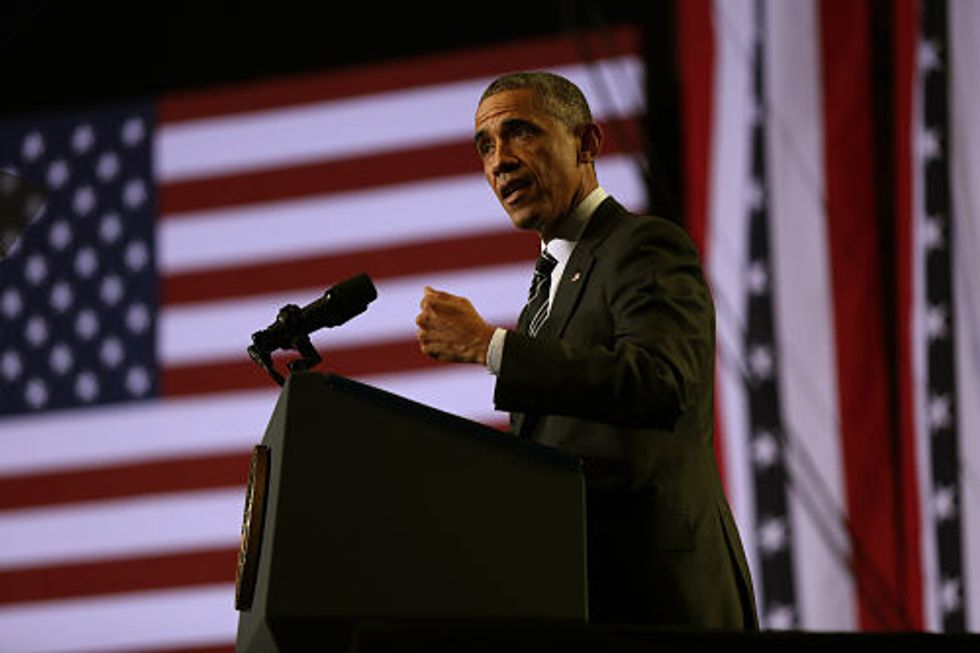 It's hard to love politics these days. Even the most avid devotees could be forgiven for deciding now is the time to learn to cook, write that mystery novel or become the most active parent at the elementary school.
As a seventh year of Washington dysfunction looms, the Center for Politics at the University of Virginia nevertheless continues to insist, "Politics is a good thing!" The slogan, the marketing equivalent of a smiley face, appears on stickers, T-shirts, pamphlets and Web pages.
It feels anachronistic, like a relic of a happier age. But, really, what age was that? Center director Larry Sabato says he started using the phrase in the late 1970s to counter the cynicism generated by the Watergate scandal. The center adopted the tagline when it was formed in 1998 — the year Bill Clinton was impeached.
At this point, "things have gotten so bad that students attracted to politics are often embarrassed about it," Sabato says. In his view, that means it's more important than ever to remind everyone that politics can be a force for good. "Even in depressing times, there is no alternative," he says.
In fact, in depressing times, it is especially critical to elevate the role and value of politics. That's certainly the case now that a grand jury has declined to indict Darren Wilson, the white Ferguson, Missouri, police officer who killed black teenager Michael Brown. Though the city roiled with violence after the announcement, others are choosing to work for change.
Brown's loved ones are in the forefront. "Join with us in our campaign to ensure that every police officer working the streets in this country wears a body camera," his family said in response to the grand jury decision. "Let's not just make noise, let's make a difference."
President Obama did his part to champion the political process, talking of criminal justice reforms and federal help to improve community-police relations. His measured remarks from behind a lectern on the night of the decision obviously couldn't compete with the looting, vandalism and fires erupting on the other half of the split screen. But that was TV reality. In actual reality, power lies in organizing, petitioning, negotiating, peacefully protesting, running for office and, above all, voting in every election at every level of government for candidates you trust.
Voters in this two-thirds black city will have a significant course-correction opportunity in municipal elections April 7. Three of the five seats held by white people on the six-member city council are on the ballot. Will there be a surge of black people registering to vote? Will they drive up a 2013 participation rate that The Washington Post pegged at 6 percent?
There's an equally crucial test coming sooner, in the five-week candidate filing period that begins Dec. 16: Will black candidates file to run? Jason Johnson, a political scientist at Hiram College in Ohio, says that's been Ferguson's most serious problem. "Black people could have 100 percent turnout in every municipal election, but if there's no one to vote for it won't matter," he wrote last summer in Ebony magazine.
The man with the most moral authority regarding Ferguson may well be Georgia Rep. John Lewis, a revered civil rights leader who was repeatedly beaten and arrested during the 1960s fights against segregation and for voting rights. "I know this (is) hard. I know this is difficult. Do not succumb to the temptations of violence. There is a more powerful way," the man who led the Student Nonviolent Coordinating Committee tweeted after the grand jury decision. "Only love can overcome hate. Only nonviolence can overcome violence."
Lewis and Obama embody the promise of politics. Restoring confidence in that promise is the challenge of today, not just in Ferguson but also across the country. At the national level, our political system clearly is falling short of solving our problems. Yet those problems, from a broken immigration system to failing infrastructure to soaring debt, are far from intractable. We have the tools and resources to fix them. We also have the stability. Our system and our values are still rock-solid at the core, and our diversity is a wonder.
As he accepted an award recently at the National Press Club, departing South African ambassador Ebrahim Rasool said that "despite the stubbornness of your leaders," America gets things done and "keeps us on true north." It was a welcome dose of international perspective.
'Tis the season to appreciate, so here's someone else to thank: Ella Jones, a black cosmetics saleswoman from Ferguson. Candidate registration papers for the municipal election became available about a month ago and, according to Reuters, Jones was the first person to pick them up.
Follow Jill Lawrence on Twitter @JillDLawrence. To find out more about Jill Lawrence and read features by other Creators Syndicate writers and cartoonists, visit the Creators Syndicate website at www.creators.com.
Photo: President Obama addresses community leaders at the Copernicus Community Center in Chicago to discuss executive actions he took on immigration, Tuesday, Nov. 25, 2014. (E. Jason Wambsgans/Chicago Tribune/TNS)
Want more political news and analysis? Sign up for our daily email newsletter!