President Obama's Greatest Ambition: Leaving America Without A War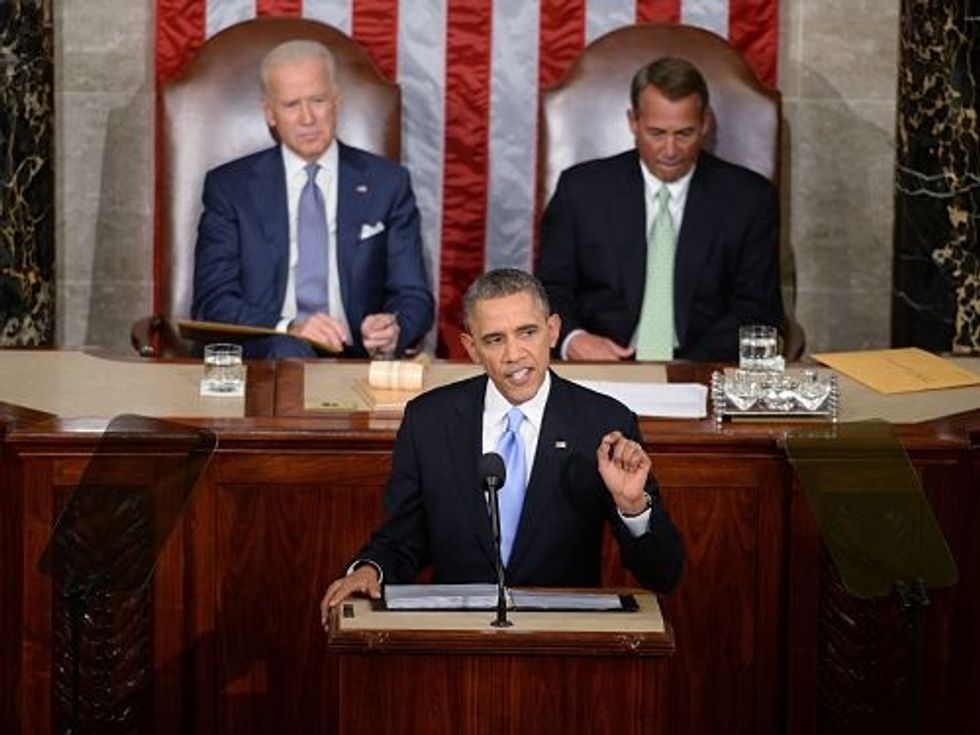 President Obama made only one veto threat during his State of the Union address on Tuesday evening.
"The sanctions that we put in place helped make this opportunity possible," he said, referring to the economic, trade, scientific and military sanctions on Iran. "But let me be clear: If this Congress sends me a new sanctions bill now that threatens to derail these talks, I will veto it."
And this threat — unlike his promises to go around Congress to improve America's domestic situation — was targeted at Democrats, who had been plotting with Senate Republicans to pass new sanctions against the Persian nation even though an interim agreement preventing weapons-grade nuclear enrichment is now in effect.
This strong stand against his own party came in the middle of the last quarter of the president's speech, which was entirely focused on honoring the troops and using their sacrifice to make the case for a humble but vigilant foreign policy.
President Obama won the Democratic nomination largely because of his opposition to a war. He saw his timetable for withdrawal from Iraq adopted by President Bush as a presidential candidate, and carried out that timeline as president. Still, critics have blasted his embrace of "dirty wars," which include expanded use of drones, reportedly leading to hundreds of civilian casualties.
The president also approved a military surge in Afghanistan, which he quickly lost faith in, according to his former defense secretary. Despite this, several thousand American soldiers may remain in the country, even though that would likely not be enough secure the limited gains of more than a decade of war.
Critics still argue that the president's willingness to leave a residual force in the country where we have waged our longest war, along with his failure to close Guantánamo Bay prison or rein in the surveillance state, indicate that he has been captured by the defense establishment.
But the idea that all that stands between America and the end of a perpetual war is President Obama has been completely confounded by his administration's courageous efforts to forge a long-term nuclear deal with Iran, which could avoid a war even more destructive and costly than the one we waged in Iraq. 
The push to enact new sanctions that would sabotage negotiations with Iran has reunited the coalition that helped bring us the invasion that deposed Saddam Hussein: moderate Democrats and neo-conservatives. But with the wisdom of that failed adventure behind them, even some hawks support the president's forceful insistence that peace should be given a chance.
The death of Osama bin Laden and shattering of al Qaeda's core had led to a diffusion and expansion of that network. Throughout Africa, the Middle East and Asia, groups loosely affiliated with al Qaeda represent an ideology of radical Islamists seemingly unified by a willingness to attack civilians. The president has signaled no willingness to give up the fight to contain them, though he said again Tuesday that "America must move off a permanent war footing."
President Obama's success in fighting terror has given Democrats an advantage on national security that they have not seen in generations, providing him with the confidence to speak out against even his own party in the name of diplomacy.
Since just weeks after 9/11, America has been engaged in active combat somewhere in the world at all times. A military conflict with Iran could extend that decade and a half by a decade — or decades — more. While the idea that terrorism could ever be defeated is a fairytale that has been dismissed, the idea that America could be finished with "large-scale deployments that drain our strength and may ultimately feed extremism" is still very viable — if negotiations are given a chance to succeed.
The president closed his speech by paying tribute to the determination and sacrifice of Sergeant First Class Cory Remsburg, who was seriously injured in his 10th deployment to Afghanistan.
The absurdity of 10 deployments in a war that was ultimately unwinnable, especially after resources were diverted to Iraq, was the subtext of the president's argument: We must honor the men and women who serve by not starting new wars that can never be won.
Olivier Douliery/Abaca Press/MCT