Punishment Fit For A Politician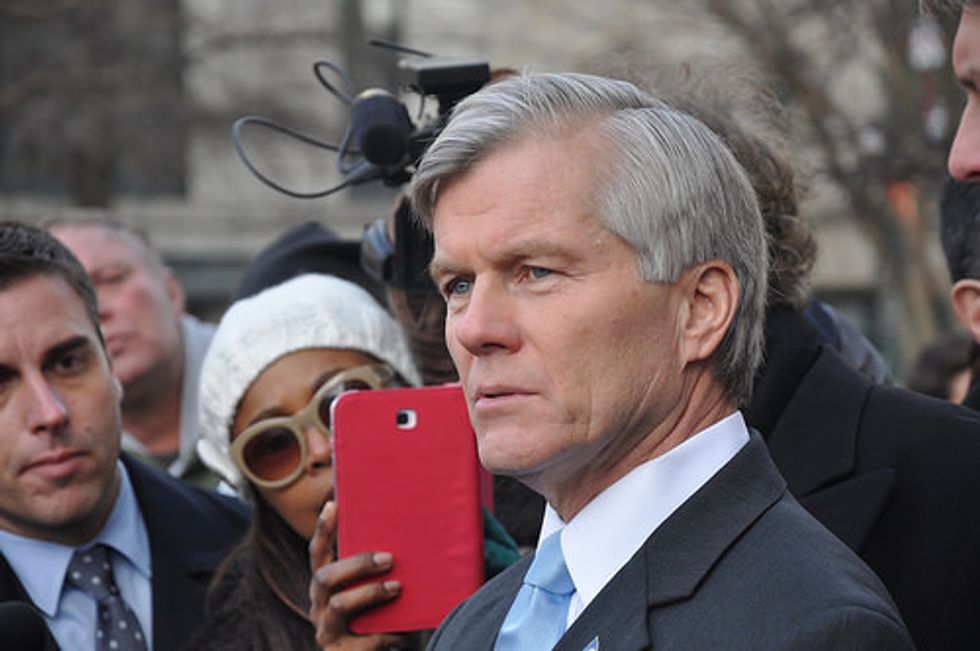 The most touching moment of bipartisanship on the opening day of Congress came not on Capitol Hill, but 100 miles away in Richmond, Virginia, at former Virginia Gov. Bob McDonnell's sentencing hearing on his multiple-count public corruption conviction.
"He's been punished, been punished indelibly," former Virginia Gov. Douglas Wilder told the judge. McDonnell was on track to be a top-tier Republican presidential contender, he went on, and now the dream is gone. Wilder, 83, would know that sting better than most, since he himself ran a very short campaign for the Democratic nomination in 1991.
An appeal centering on McDonnell's dashed White House hopes was audacious but hardly the only plea for mercy that smacked of entitlement. There was a McDonnell daughter who said her dad should avoid prison because she was about to have his first grandchild. His sister, who said his children (who are adults) need him because he is the "go-to parent" in the (two-parent) family. His political associates, who said he's a really great person who restored felons' voting rights and helped foster children.
And then there was this one: If McDonnell went to jail, "it would be like burying something of enormous value." That came from William Horan, executive director of Operation Blessing International, urging a community service sentence that McDonnell could fulfill by working for his organization.
Forgive me for rolling my eyes. The United States is "the world's largest jailer," according to the American Civil Liberties Union, with diverse sources pegging the U.S. prison population at more than 2.2 million. We can safely assume that tens of thousands of people of "enormous value" are "buried" behind bars. Maybe hundreds of thousands. Heck, maybe everyone, depending on how you define "enormous value." Lots of them are no doubt nice, much needed by their families and will never run for president. And yet, there they are, in jail.
It's not that I'm inured to the human tragedy here. This was a terrible fall. While our views are very different, I respected McDonnell's political skills, recognized his potential and admired the pragmatism he showed in signing a badly needed law to rejuvenate the transportation system in his state. Still, the requests for mercy on his behalf seemed to presume he'd get special treatment because of who he is.
Especially amid a difficult national conversation over race, policing, crime and sentencing, this does not sit well. What's more, in a way McDonnell did receive special treatment. The two-year term he faces was far less than the 10 years prosecutors had sought based on sentencing guidelines, and it came after U.S. District Judge James Spencer said it broke his heart to send McDonnell to jail but "I have a duty I can't avoid." McDonnell himself said he was humiliated and humbled, but he also insisted: "I have never, ever betrayed my sacred oath of office in any way."
McDonnell has come off as just that oblivious throughout this debacle, in which he and his wife Maureen were convicted of taking more than $177,000 in gifts and loans from businessman Jonnie Williams, as they helped Williams promote an unproven dietary supplement called Anatabloc. The roster included vacations, clothing, jewelry, golf outings, $15,000 to cater a daughter's wedding, a $50,000 loan to Maureen, and a $70,000 loan to McDonnell and his sister. All this from a man who wanted something from them. But the governor apparently didn't see anything wrong with that.
With his polished manner and swing-state credentials, McDonnell was a much mentioned vice-presidential prospect in 2012 until his name suddenly vanished from the conversation. How much do you want to bet that happened the moment Maureen urged Ann Romney to try Anatabloc for her multiple sclerosis? I'd put money on it. It was nevertheless disconcerting — or "dangerously delusional," in Spencer's words — that McDonnell's legal strategy was to blame everything on his wife. Washington Post columnist Petula Dvorak summarized it thusly: "So, Maureen McDonnell wrestled the Rolex on him? Muscled him into Willams's private jet? Held him at wife-point until he drove the Ferrari and smiled for the camera?"
It goes without saying that life is unfair. The current Virginia governor, Democrat Terry McAuliffe, will never need a Jonnie Williams because his own business ventures made him a wealthy man. Yet McDonnell had options he did not exercise. If he was so interested in money, he could have made a mint in private legal practice at any time. Instead he chose to be a JAG officer, a state legislator, attorney general and then governor — jobs he knew would not make him rich. He also had the choice of not associating with Williams and taking his largesse.
Like most of the 2.2-plus million serving time, McDonnell made some wrong choices. Cynics about our justice system can take some comfort from the fact that his punishment is not limited to the death of his higher ambitions.
Follow Jill Lawrence on Twitter @JillDLawrence. To find out more about Jill Lawrence and read features by other Creators Syndicate writers and cartoonists, visit the Creators Syndicate website at www.creators.com.
Photo: VCU CNS/Michael Melkonian via Flickr