Right Wing Plotting Coup Against Boehner?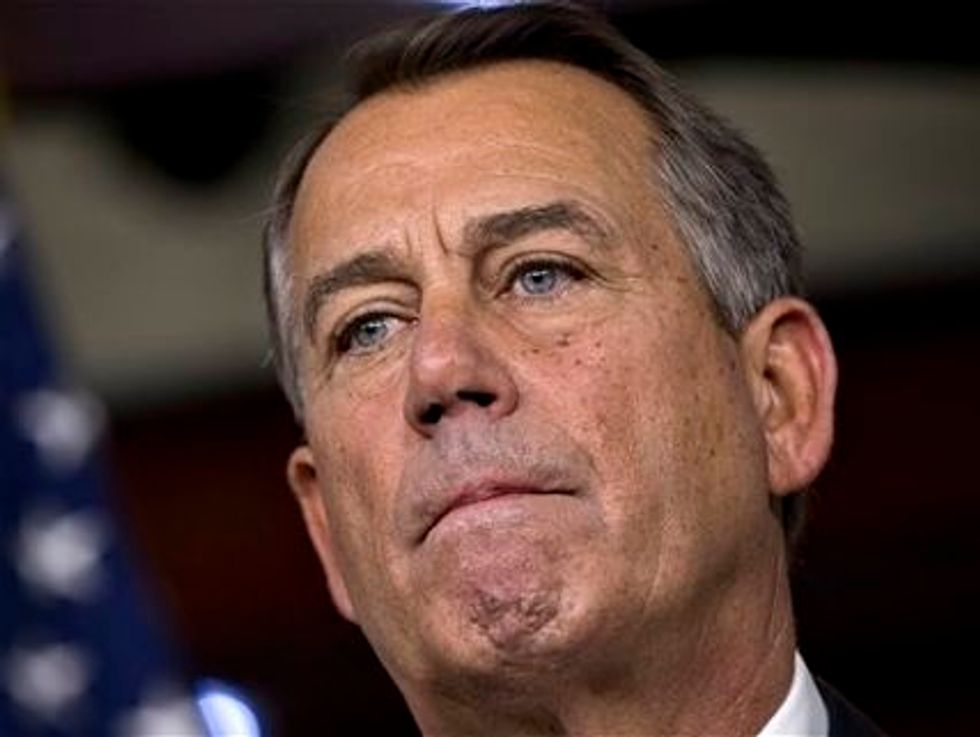 Right-wing Republicans are reportedly organizing a coup against House Speaker John Boehner — and if they get their way, Paul Ryan could end up holding the speaker's gavel.
Speaker Boehner — who is currently the least popular leader in Congress — has long struggled to control the right-wing flank of his party, but his disastrous failure to pass his "Plan B" budget deal crystallized the problem in a highly public way.
In response, some on the right are mobilizing to replace Boehner with a House speaker who drops Boehner's pretense of being willing to negotiate with the White House, and who sticks more purely to extreme conservative dogma.
According to Matthew Boyle of the far-right website Breitbart News, conservative House Republicans have already laid the groundwork to do just that. Boyle reports that several members and staffers are quietly circulating a multi-step plan to oust Boehner as speaker on January 3rd. The first step of the plan would be to change House rules to elect the speaker by secret ballot instead of by a public roll-call vote; this would protect the congressmen who vote against Boehner from retribution.
The plotters are confident that such a measure would succeed, because Boehner himself has passionately argued in favor of secret ballots in the past. While opposing the Employee Free Choice Act — ironically, a favorite target of the right wing that now has Boehner in its sights — the speaker wrote a 2009 op-ed stressing that secret ballots protect against "coercion" and "intimidation." In a document laying out the plan to oust Boehner (which can be viewed on Breitbart.com), the anonymous staffers behind the planned coup note that Boehner would be in the "impossible position of opposing secret ballot or being confronted on the Floor with his own, indicting op-ed."
If the move to vote via secret balloting is successful, then House Republicans would be able to anonymously vote until a Republican gains the 218 votes necessary for election as speaker. According to Boyle, House Republicans are confident that Boehner would not survive a secret ballot — but that another, still-anonymous congressman, "will unite the party and take the speakership."
Could that congressman be Wisconsin Rep. Paul Ryan? Right-wing pundit Laura Ingraham said on Wednesday that "a well-placed conservative voice on the Hill" told her that there were "rumblings" that Ryan could replace Boehner. Although the former vice-presidential nominee is a member of Boehner's "fiscal cliff" negotiating team (and supported Boehner's ill-fated "Plan B"), he has the support of prominent right-wing voices such as Red State'sErick Erickson, and his Tea Party bona fides have been well established over the past four years. If any congressional Republican could unite Boehner's supporters and the Tea Party-backed base of the party, it would probably be Ryan.
That said, were Ryan to be elected as sSpeaker, there's no reason to believe that he'd prove any more successful in the role than Boehner has. House Republicans — most of whom come from extremely safe districts where their only electoral concern would be a conservative primary challenge — seem wholly unconcerned with the political realities facing their party, and the fiscal realities facing the country. It doesn't matter if Boehner, or Ryan, or even an outsider like Jon Huntsman becomes speaker (as American Enterprise Institute scholar Norman Ornstein recently suggested in a Hall of Fame example of how inside-the-Beltway consensus loses touch with reality).
Until the Republican Party listens to the American people and compromises on its extremely right-wing (and extremely unpopular) positions, changing its leadership will amount to little more than shuffling the deck chairs on the Titanic.
Photo credit: AP/J. Scott Applewhite