Sarah Palin Can't Tear Down The Wall Between Church And State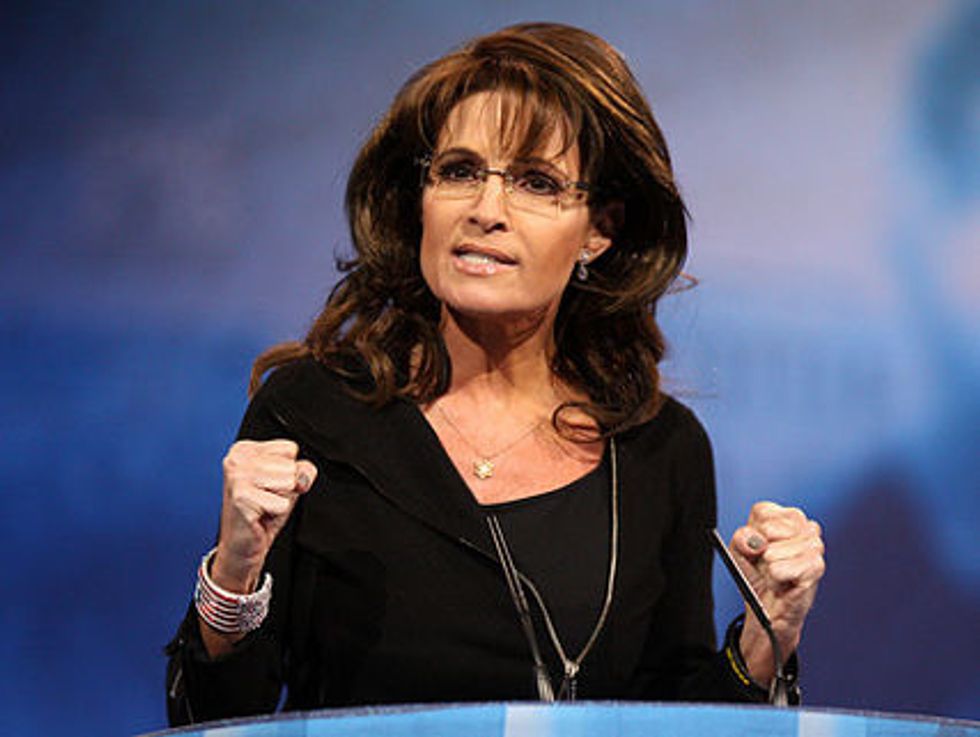 "We have just enough religion to make us hate," wrote Jonathan Swift, "but not enough to make us love one another." A lifelong religious controversialist, the 18th-century Irish satirist definitely knew whereof he wrote. After all, it's fewer than 20 years since Protestants and Catholics in Northern Ireland quit dynamiting each other's gathering places.
Even here in the United States, it often seems that picking fights over religion increases during the Christmas season. If anything, claiming to be persecuted while expressing contempt for others' belief appears on the rise.
And, no, I'm not talking only about the annual invocation of paranoid triumphalism Fox News calls the "War on Christmas." Nor even about noted theologian Rush Limbaugh assailing Pope Francis as a "Marxist" for criticizing the tyranny of markets and the worship of money. Because Jesus was all about capital formation and tax cuts for the wealthy.
Everywhere you look, somebody's insulting somebody else's religion.
To me, the cultural left's only marginally better than the right. I recently witnessed a remarkable online colloquy concerning a Catholic organization's shipping 3,000 rosaries to the Philippines to victims of Typhoon Haiyan, "so that they can thank God" as one cynic wrote.
"Do these people ever use their minds for one second?" one person asked. "Hearing this is thoroughly depressing. It shows how ignorant and warped so many people are and how daunting is the amount of education there needs to be to cure the world."
Cure it of what, I wondered. Of typhoons? Of charity? Or merely of belief? Almost needless to say, Roman Catholic churches worldwide were taking up special collections for storm victims in that largely Catholic nation—along with religious and humanitarian organizations worldwide.
"They are vultures sweeping down on those in need to shove more control down their throats," wrote another. "I have nothing but contempt for the Catholic church and religion as a whole."
News flash: The world will never be cured.
Meanwhile, how this kind of free-floating rage differs from Bible-beating preachers who blame earthquakes and tornadoes on other people's sexual sins escapes me. The main characteristic of the fundamentalist mind is an inability to refrain from expressing contempt for beliefs different from one's own—whether one's spiritual leader is Pat Robertson or Christopher Hitchens.
Which brings us back to Sarah Palin's remarkable appearance at the late Jerry Falwell's Liberty University last week—the last stop on a tour publicizing her book Good Tidings and Great Joy: Protecting the Heart of Christmas.
"I say in a very jolly Christmasy way," the Alaskan babbler claims, "that, 'Enough is enough.' Say enough is enough with this politically correct police out there that is acting to erode our freedom to celebrate and exercise our faith. Some Scrooge wants to force Christ out of Christmas and wants to ban Jesus out of the reason for the season?"
To hear Palin tell it, there's a veritable army of "angry atheists armed with an attorney" who "want to try to abort Christ from Christmas" by filing lawsuits "when they see a plastic Jewish family on somebody's lawn—a nativity scene, that's basically what it is, right?"
Actually, no.
But never mind theology, here's the deal: If Palin or anybody else can provide a single, verifiable instance of somebody being successfully sued for exhibiting a crèche, a cross or any religious symbol on private property anywhere in the U.S., they'd have something to complain about.
They'd also have the certain support of the American Civil Liberties Union in defense of their First Amendment rights.
But of course that's not what these (to my mind overblown) fights over nativity scenes at courthouses, city halls and state capitols around the country are about. Instead, they're about an "establishment of religion" which the same First Amendment categorically forbids.
In typical scattershot fashion, Palin even invoked Virginia's own Thomas Jefferson, a conventionally pious Founding Father in her mind, who would, like, totally object to the persecution of people like her who can't make everybody admit that their God is America's God:   
"I think Thomas Jefferson would certainly recognize it and stand up and he wouldn't let anybody tell him to sit down and shut up."
Now it's definitely true that Jefferson was rarely shy about his religious views. Courtesy of Martin Longman in Washington Monthly, here's his opinion about what Palin calls "the reason for the season" from an 1823 letter to John Adams: "The day will come when the mystical generation of Jesus, by the supreme being as his father in the womb of a virgin will be classed with the fable of the generation of Minerve in the brain of Jupiter."
Like Swift, Jefferson recognized the dangers of religious strife. That's precisely why, he assured Connecticut Baptists in 1802, the First Amendment decreed "a wall of separation between church and State."
A wall that protects us still.
Photo: Gage Skidmore via Flickr