The 7 Reasons Why New FBI Report Won't Make Trump Happy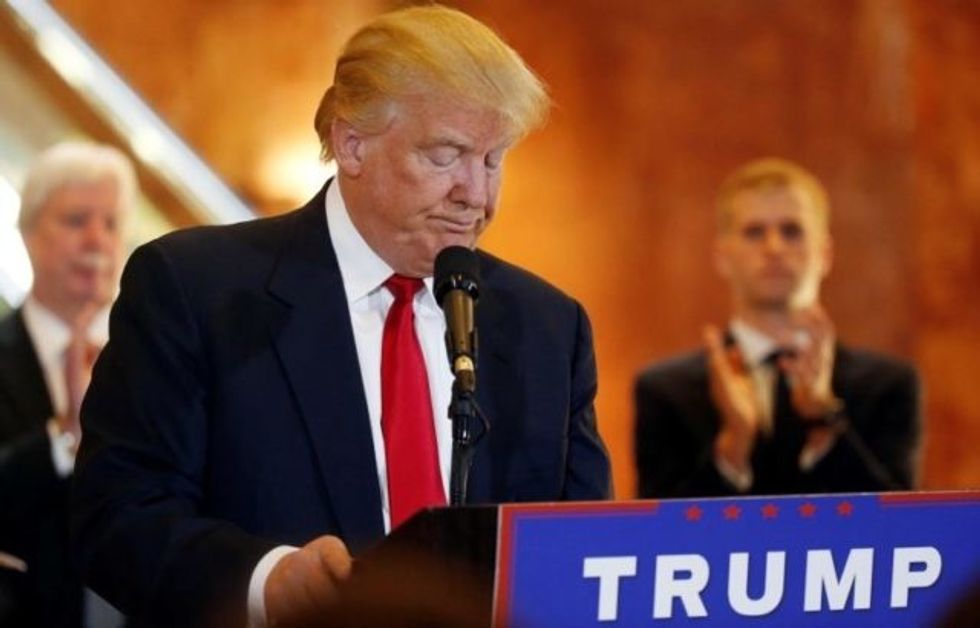 Reprinted with permission from AlterNet.
A bombshell new report from the Department of Justice examined the FBI's conduct during the investigation of Hillary Clinton's emails, and many of its key findings completely contradict President Donald Trump's narrative of a politically motivated bureau that is determined to bring him down.
At more the 500 pages, the meticulously crafted report is filled with countless details and appears to be the result of a painstaking investigation. With all this information, there is certain to be enough facts that partisans on any side can use to support almost any conclusion they want — the war of political spin surrounding the report has already begun.
But Trump's claim that former FBI Director James Comey is inherently biased against him and that larger forces within the FBI were arrayed against him in the run-up to the election is completely undermined by the new report.
Here are seven key findings of the report that conflict with Trump's now entirely debunked narrative about the FBI:
1. Clinton was rightfully exonerated in the email probe.
While many conservatives are still completely convinced that Hillary Clinton was guilty of egregious wrongdoing in the email case — this fact served as a major argument during Trump's campaign — the inspector general believes Comey made the right call when he concluded that she wasn't guilty of a crime.
The report says Comey's determination was "consistent with the Department's historical approach in prior cases under different leadership."
2. Comey's decision to criticize Clinton in a July press conference was unjustified. 
Comey called a press conference, without consulting his superiors, at the end of his investigation to announce that no charges would be brought against Clinton, but he included many sharp criticisms of her conduct. He has acknowledged that this was an unusual choice, but he argued that the difficult circumstances of the case warranted it.
The IG disagrees, writing: "While we found no evidence that Comey's statement was the result of bias or an effort to influence the election, we did not find his justifications for issuing the statement to be reasonable or persuasive."
This undermines Trump's claim that the FBI leadership, and Comey in particular, was biased against him. If Comey acted inappropriately in a way that disparages Clinton, it's hard to believe he was secretly trying to hurt her electoral opponent.
3. Comey's decision to reveal that the email probe had reopened was similarly an "error in judgment."
Clinton blames Comey's later decision to reveal that he had reopened the email investigation days before the election for her stunning defeat.
The IG also criticized this decision, though it didn't consider its impacts on the election. The report says that in breaking with department policy, Comey "made a serious error in judgment."
This conclusion, like the one about the July press conference, further demonstrates that Comey was absolutely not biased in favor of Clinton.
4. Peter Strzok and Lisa Page were "aggressive" investigators of Hillary Clinton.
Trump and his supporters don't just believe that Comey was biased in favor of Clinton — they also believe that FBI agents Peter Strzok and Lisa Page also conspired against Trump. While there is ample evidence in the form of text messages that the pair disliked the president and didn't want him to win, the new report also provides evidence that their investigative work was not designed to favor Clinton.
The report notes, "We found further evidence that in some instances Strzok and Page advocated for more aggressive investigative measures in the Midyear investigation," which was the codename for the email probe.
5. Using your personal email for work seems incredibly common.
Comey, Strzok, and Page all reportedly used their private emails to conduct official business. While Trump may seize on this to attack them, it actually reveals that what Clinton did, what led to this whole investigation, was pretty commonplace.
In other words, the whole investigation into Clinton's emails, while it did discover some problematic behavior, was on the basis of conduct that seems to be extremely widespread in government. The investigation into Trump's campaign, on the other hand, touches on behavior entirely unheard of in the world of modern politics.
6. Andrew McCabe "did what he was supposed to do" when he didn't recuse from the Clinton investigation.
McCabe, the former Deputy Director of the FBI who has since been fired from the bureau, was a major target of Trump's criticism after it was revealed that he worked on the Clinton email probe even while his wife received campaign funds from a Clinton ally. However, while other reports do implicate McCabe in wrongdoing, the IG says that McCabe "did what he was supposed to do" with regards to his decision not to recuse.
7. The FBI should reconsider its recusal guidelines
The report does suggest, however, that guidelines should be revised so that people in McCabe's position in the future do not create the impression of bias.
But even this fact is bad for the president because he has encouraged Attorney General Jeff Sessions to withdraw his recusal from the investigation into Trump's campaign, even though he was an active member of that campaign.
Cody Fenwick is a reporter and editor. Follow him on Twitter @codytfenwick.