They'd Have To Run The Table, But Democrats Could Hold Senate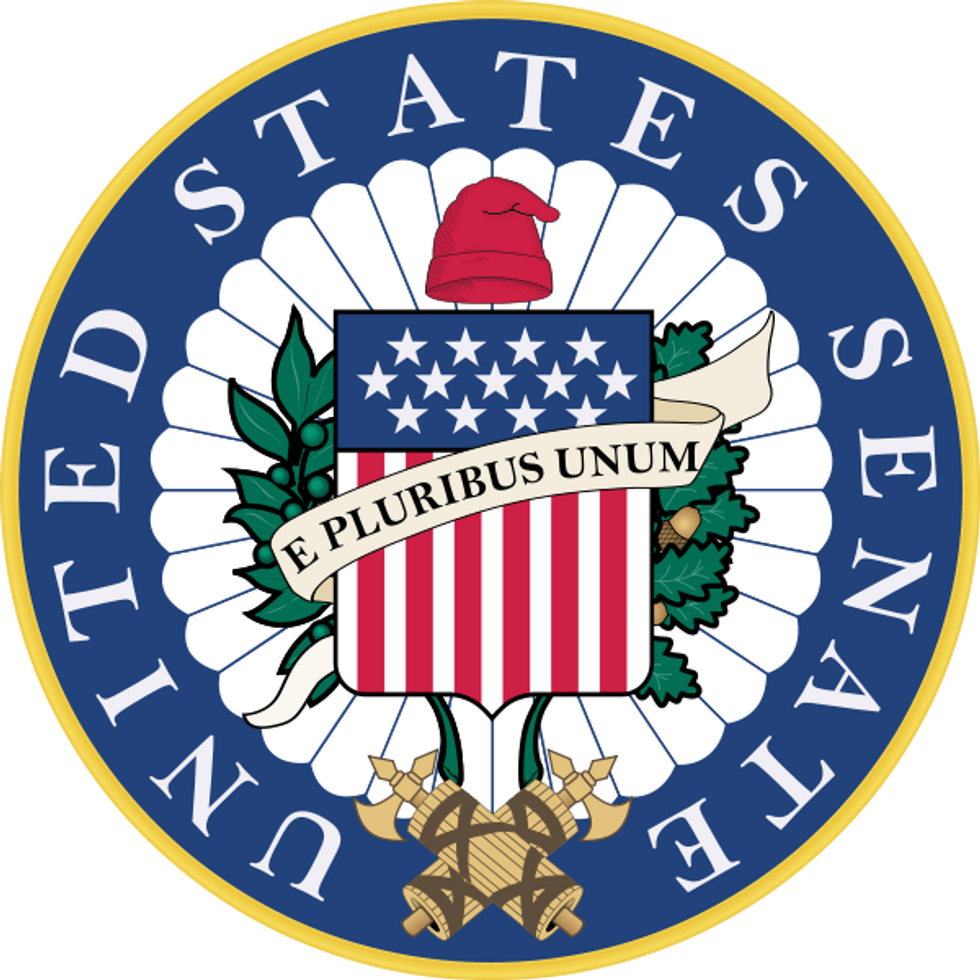 WASHINGTON — Despite being written off already, the Democrats could retain control of the Senate this November — if they can steer the debate to local matters, generate an epic turnout, and paint Republicans as dangerously extreme.
And keep President Barack Obama away.
Analysts already rate the chances as excellent that Democrats will lose the majority control, with Republicans already safely ahead in three states and needing just three more. The prospects for the Democrats remain daunting.
Republicans are well ahead and favored to win Democrat-held seats in Montana, West Virginia and South Dakota, while having a good chance of replacing Democrats in Arkansas, Alaska, New Hampshire, North Carolina, Iowa, Louisiana and Colorado. Republican-held seats in Georgia, Kansas and Kentucky are possible Democratic pickups.
A Democratic victory could look like this:
They lose the three states where they're behind by double digits. But they hold a few of the other vulnerable seats, such as North Carolina and New Hampshire, where their candidates are leading, or Colorado or Iowa, both close. And they take a Republican seat or two, such as Georgia or Kansas.
They'd end up with a smaller majority, but still in control.
Democrats now have 55 of the Senate's 100 seats. Maintaining that control remains a tough task, but following four rules could swing things their way:
Rule One: Stress your history as a neighbor and native who happens to work in Washington.
"The ultimate technique is to localize," said independent Colorado pollster Floyd Ciruli. "Control the message."
That's why endangered Democrats such as Sen. Mark Udall of Colorado talk about flood control. Sen. Mark Pryor of Arkansas appears in ads with his father, once a popular governor and senator, and Sen. Mark Begich of Alaska announced a plan to bolster the Arctic economy. The plan includes strengthening the Coast Guard, which Begich, as chairman of a Senate Coast Guard subcommittee, is positioned to influence.
Rule Two: Stay away from Obama, whose approval numbers in most of the competitive Senate states are dismal. Trouble is, the Senate Democrat who opposed Obama the most last year was Pryor, and even he backed the president more than 90 percent of the time.
"For good or evil, you're stuck with the president of your own party," said Lee Miringoff, director of the Marist Institute for Public Opinion in New York.
Rule Three: Demonize Republicans, individually and collectively.
Democrats need African-American voters in swing states, and they warn that Republican ascendancy "will make our lives miserable for the next two years," said Congressional Black Caucus Chairwoman Marcia Fudge, D-Ohio.
She said Republican gains would accelerate efforts to impeach Obama and jeopardize many civil rights protections.
Unmarried women, who voted overwhelmingly for Obama in 2012, are another favorite Democratic target. All year, the party has played to that constituency by citing Republican reluctance to increase the minimum wage, and the GOP's widespread opposition to abortion and the Affordable Care Act, which provides new protections against gender discrimination.
"The economic message is really, really powerful. Unmarried women want candidates who know what it's like to walk in their shoes," said Page Gardner, president of the nonpartisan Voter Participation Center, an advocacy group promoting turnout among unmarried women.
Rule Four: Turn out supporters like crazy. The Democrats' Senate campaign committee, in partnership with local races and parties, expects to spend $60 million getting out the vote in about 10 competitive states.
They're hiring about 4,000 people to answer issue and candidate questions, pass out literature, help voters with absentee or early ballots and provide rides to the polls.
Republicans have already spent $100 million, mostly on Senate races, in 13 states. Party spokeswoman Kirsten Kukowski called the effort "an insurgent campaign against incumbent Democrats who are well funded, have famous last names and have had years of infrastructure but you wouldn't know it by looking at the polls."
The Republican plan includes recruiting precinct captains who get to know local voters, as well as more reliance on technology.
Will following the rules keep the Senate under Democratic control? Not out of the question, said the analysts. "It's hard," Miringoff said. But doable.
Photo via Wikimedia
Want more political news and analysis? Sign up for our daily email newsletter!