Trump Effect Could Turn Legislatures Blue Across Country
@EricBoehlert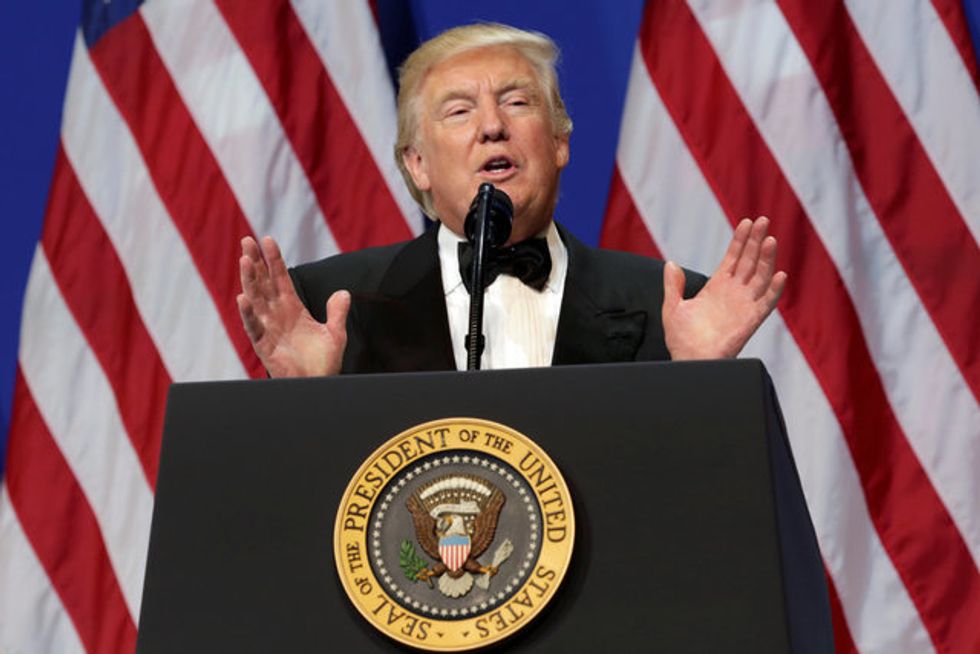 Reprinted with permission from Shareblue.
The U.S. Congress isn't the only place Democrats are hoping to make gains on Election Day. In state legislative contests across the country, Democrats stand poised to grab control of key chambers.
Among the important races to watch Tuesday are state House contests in Michigan, Minnesota, North Carolina, and Pennsylvania, as well as Senate show-downs in Colorado, Florida and Wisconsin.
Fueling the surge is Trump, of course. Not only has he inspired a generation of new activists and candidates to focus on local and state races — many of them women — but his radical agenda and smash-mouth style of hate politics is dragging down the GOP brand across the country and hurting Republicans down the ballot.
Democrats have flipped dozens of seats in state legislatures across the country since Trump's election, some in deep red districts Democrats hadn't held in decades. Lots of angry voters seem poised to send the Republican Party a message on Election Day, and that message could reverberate from Congress to state capitals that Democrats hope to win back.
Today, Republicans control 65 state legislatures, compared to 31 for Democrats.
Republicans have used that local control to unleash a wave of right-wing legislation on a wide array of issues, including passing more than 200 abortion restriction laws in five years.
Democratic hopes on the state and local level this year are largely being powered by women candidates. "Of the nearly 3,400 women running for state legislatures this year, almost 2,400 of them are Democrats," the Daily Beast reports.
Campaign watchers give Democrats a good chance of flipping from between 6 to 14 state chambers next week, be they local Houses or Senates.
In previous election cycles, Democrats might have been favored to win just two or three state legislatures.
But after what happened in Virginia last year, when Democrats rode a Trump backlash and shocked the state's political establishment by flipping 15 state legislative seats in one night, nobody's really quite sure what will unfold next week.
And early indications are that voter turnout across the country could be unusually high, and in some places it could be extraordinarily high.
With so many local state seats up for grabs this year, Democrats are zeroing in on GOP-held districts that Hillary Clinton won in 2016. Over and over, we're seeing the same scenario play out this year, as Democratic women square off against conservative Republicans in districts that actually lean left, especially amidst Trump's historically low standing.
Some of the state legislature lifts for Democrats are heavier than others. In Wisconsin, for example, if Democrats hold all their seats and flip just two more, they'll gain control of the state Senate. Democrats have already flipped two seats there via special elections this year. And Scott Walker, the state's Republican governor who once had presidential aspirations, is caught up in a surprisingly close re-election run.
In Colorado, Democrats need to flip just one seats to take the Senate. And if they do that, while maintaining the House and the governorship, that election trifecta will give them room to enact a progressive agenda, including family paid leave and common sense gun safety legislation.
Currently, there are only eight states where Democrats enjoy total legislative control like that.
Elsewhere, Democrat hope a wave election will help them seize control of key chambers that require more victories. For instance in Florida, Democrats need to flip four seats in the Senate.
Were Democrats to pull that off, it would be the first time in 25 years that the party controlled the House or the Senate in the Sunshine state.
In Minnesota, Democrats have to win 11 seats to take the House. No doubt helping the party will be Trump, who's widely disliked in the state.
North Carolina Democrats are challenging every legislative seat up for election this cycle, something they haven't always done in the past. If they don't grab either chamber outright, they might be able to break the GOP's supermajorities in the House and Senate, which would mean the state's Democrat governor could issue stronger veto threats, Governing.com notes.
In Michigan, Democrats need to flip at least eight seats to take control of the House. The party appears poised to win back the governor's office, while Democratic Sen. Debbie Stabenow cruises to re-election, both which could help down ballot races across the state.
One advantage Republicans have as they face a mounting blue wave in several competitive states is that district lines were redrawn in 2010, and the Republican-engineered gerrymandering hugely benefits the party.
But this time, that may not be enough to save the GOP.