Trump Orders Lawyers To Dispel Concerns About His Russian Business Connections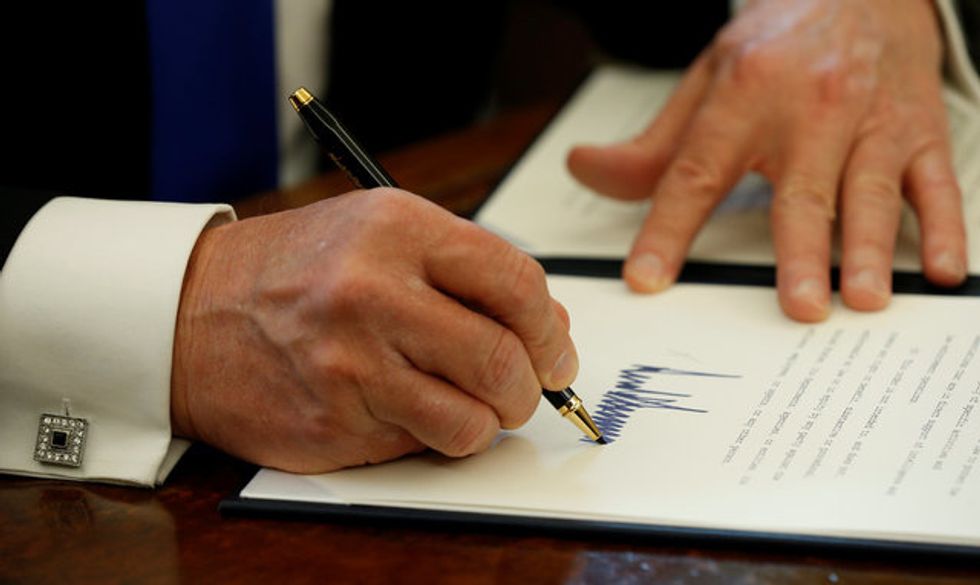 Reprinted with permission from Alternet.
President Trump keeps showing he can't keep quiet when it comes to political fights. The latest evidence is his admission that firing FBI director James Comey was really about his refusal to pledge his loyalty to Trump and the FBI's ongoing Trump campaign-Russia investigation—not Comey's mishandling of Hillary Clinton's classified emails.
"Again, the story that there was collusion between the Russians & Trump campaign was fabricated by Dems as an excuse for losing the election," he tweeted Friday. "The Fake Media is working overtime today!"
But Trump did something else Friday; not saying much, but instead pointing to a letter written by his longtime lawyers, showing that when the focus turns to Trump's business deals and investment partners, he knows it's better to have others play defense for him.
The issue was not Trump's collusion with Russia to help his presidential campaign, but Trump's collusion with Russian oligarchs and mobsters in his businesses—for which he has been sued and accused of violating federal racketeering charges, and which the FBI may also be examining.
The White House released a letter from Trump's lawyers at Morgan Lewis & Bockius that said, "with few exceptions—as detailed below—your tax returns do not reflect (1) any income of any type from Russian sources, (2) any debt owed by you or TTO [The Trump Organization] to Russian lenders, (3) any equity investments by Russian persons or entities in entities controlled by you or TTO, or (4) any equity or debt investments by you or TTO in Russian entities."
This seeming denial comes against a backdrop of investigative reporting showing that Trump's prior business partners include many Russian oligarchs and a convicted Russian mobster, Felix Sater, who became a U.S. citizen and later an FBI informant. Needless to say, the letter references tax returns that have not been released to the public.
"This is a very artfully written letter," said David Cay Johnston, a Trump biographer, investigative reporter specializing in taxation, and founder of the news website DCReport.org. "First of all, it only goes back to 2007, when many of the Trump dealings of interest are before that. Secondly, it makes no mention of the many lawsuits and criminal actions underway in the United States and other countries involving Trump associates and business partners and purchasers of Trump properties who are accused of everything from swindling investors to stealing the public funds of former Soviet governments to money laundering to tax cheating. And while none of those charges have been proved, they relate to the Russian money which Trump keeps calling fake news."
A new Dutch documentary, The Dubious Friends of Donald Trump: The Russians, profiles one Trump development in lower Manhattan where Trump's partner, Bayrock LLC, had Russian oligarch and mob ties. The finer print of the Bayrock deals are what Trump's lawyers' letter artfully skirted, Johnston said.
"The entire Bayrock affair, involving the Trump Soho hotel and tower in Manhattan, where banks and investors lost millions of dollars, and the profits, according to court papers, disappeared into an Icelandic company backed by a Russian oligarch, would seem not to be covered by this letter—by this very carefully composed letter," he said. "We're going to publish shortly a piece at DCReport that has so many different court cases and international cases involving these people that Trump has touched upon. The notion that there's nothing here is absurd. Of course, there's something here. If there were nothing here, he wouldn't care. He'd say go look at everything."
The timing of Trump's letter may also be related to something journalists are beinning to suspect, as MSNBC's Rachel Maddow raised late this week: that some of Trump's former top campaign aides are cooperating with the FBI to save their own skins.
"It's a more than reasonable question whether [campaign manager] Paul Manafort, who was on Moscow's payroll, and that of the former pro-Moscow Ukrainian government before it was overthrown, is cooperating with federal investigators," Johnston said. "Because he has not registered as a foreign agent, a law that has incredibly tough tools to strip him of every dollar he has as well as prison. It is significant that [former White House national security adviser] Michael Flynn has asked for immunity in return for telling his story."
These developments come against a stark backdrop. In March, former FBI agent Clint Watts, who specialized in Russian affairs, described how the Trump campaign under Manafort used Kremlin-created propaganda to attack Hillary Clinton.
As ThinkProgress reported: "Beyond the virtual component of Russia's meddling, Watts encouraged committee members to 'follow the trail of dead Russians.'" The report continued, "'There have been more dead Russians in the past three months that are tied to this investigation, who have assets in banks all over world,' he said. 'They are dropping dead even in Western countries.'"
Since then, Trump has created a pattern of firing those he believed were not only disloyal, but whose Russian investigations came too close for comfort.
"If there was nothing there, then why wouldn't Trump say, 'Hey, put all the FBI agents and prosecutors you want on the case because they won't find anything," Johnston said. "Instead of firing three high-level officials [Sally Yates, Preet Bharara and James Comey] who were digging into this and constantly calling the questions about his Russian connections fake news."
One more detail emerged Friday: Fortune.com's Mahita Gajanan reminded readers of a story she reported this past January, about how the private law firm representing Trump, Morgan Lewis & Bockius, won the 2016 Russia Law Firm of the Year Award.
"This is the latest honor for the high-profile work performed by the lawyers in Morgan Lewis's Moscow office, which is ranked in Tier 1 by The Legal 500 EMEA for Corporate/M&A Law Firm, Russia and has a Band 1 ranking from Chambers Global for Energy & Natural Resources Law Firm, Russia," the law firm's press release said. "Morgan Lewis's Moscow office provides full-service business representation for clients, including advice on corporate and finance matters; mergers and acquisitions; transactional finance; litigation and international arbitration; energy and natural resources projects; real estate property transactions; labor and employment issues; immigration; and a wide range of regulatory matters. The Moscow team includes seasoned lawyers and specialists with experience throughout the region, including in Kazakhstan (working with Morgan Lewis colleagues in Almaty and Astana) and other countries of the former Soviet Union, including in the Central Asia and Caspian regions."
This article was made possible by the readers and supporters of AlterNet.