Two Years Out, Poll Shows Hillary Clinton's The 2016 Favorite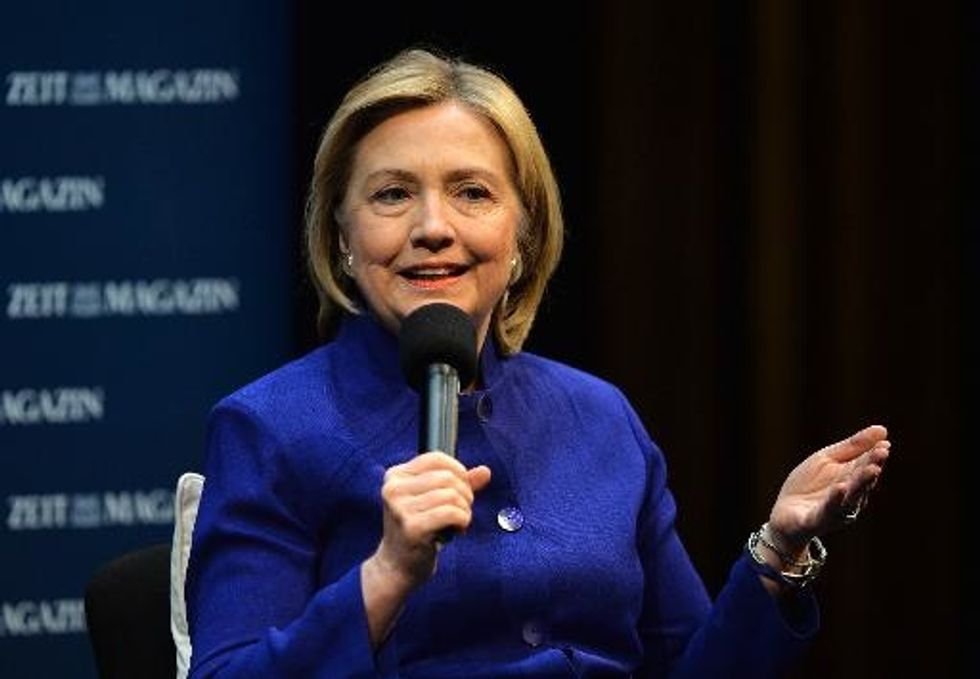 By David Lightman, McClatchy Washington Bureau
WASHINGTON — Hillary Clinton has a comfortable lead among Democrats for the 2016 presidential nomination, while the Republican race remains a free-for-all, according to a new McClatchy-Marist poll.
Clinton was the top choice of 64 percent of Democrats and Democratic-leaning independents. She showed strong appeal among virtually every demographic and political group.
"She's jogging around the track with no serious competition," said Lee Miringoff, director of the Marist Institute for Public Opinion in New York, which conducted the Sept. 24-29 poll.
A former secretary of state, U.S. senator from New York and first lady, Clinton has been a front-runner before. In 2008 she was doing well at this early stage, but she lost the nomination to Barack Obama, then a Democratic senator from Illinois.
She had shown a hint of vulnerability this summer during her tour to promote her memoir, Hard Choices
. Clinton was hurt by her assertion that she and her husband, former President Bill Clinton, were "dead broke" after leaving the White House in 2001 because of mortgages and daughter Chelsea's college tuition.
Since then, Clinton has been campaigning for 2014 candidates. Last month she visited Iowa, traditionally the nation's first presidential caucus state. Clinton got a warm greeting from thousands of people gathered at an Indianola farm, where she said she was thinking about running.
Many at that event said they wanted to hear from other candidates, but the poll shows that no other Democrats have so far caught on. Vice President Joe Biden was a distant second at 15 percent, followed by Massachusetts Sen. Elizabeth Warren, who has said repeatedly she does not want to be a candidate, at 8 percent.
Three who may be interested in waging campaigns trailed far behind. Sen. Bernie Sanders, a Vermont independent who held town meetings in Iowa at the same time Clinton was visiting, polled 4 percent. Maryland Gov. Martin O'Malley recorded 2 percent, and former Virginia Sen. Jim Webb was at 1 percent.
Clinton also did well against potential Republican challengers, topping 50 percent in each instance.
She led New Jersey Gov. Chris Christie, whose appeal to moderate voters could make him formidable, by 51 percent to 42 percent, up from 47 percent to 41 percent in August.
Clinton did better against former Florida Gov. Jeb Bush, winning 53 percent to 42 percent, up from 7 percentage points in August. She tops Kentucky Sen. Rand Paul 52 percent to 43 percent, up from 6 points in August. Paul has been aggressively traveling to key presidential states and has been particularly active in Iowa.
Former President George W. Bush, Jeb's brother, said earlier this week, "I think he wants to be president," but he does not believe his brother's made a decision.
Jeb Bush led the Republican field, but there was no discernible trend for or against anyone. Bush got 15 percent backing, followed by Paul and 2012 vice presidential nominee Paul Ryan of Wisconsin, both at 13 percent. Christie was at 12 percent.
A long list of potentially strong candidates trailed: Texas Gov. Rick Perry, 7 percent; Florida Sen. Marco Rubio, 6 percent; Texas Sen. Ted Cruz and Louisiana Gov. Bobby Jindal, tied at 4 percent; former Pennsylvania Sen. Rick Santorum and Wisconsin Gov. Scott Walker, 3 percent each.
Twenty-one percent were undecided.
"That's the most popular option," noted Miringoff.
The telephone survey polled 1,052 adults, including 884 registered voters. The poll has an overall margin of error of 3 percentage points. The margin is 3.3 percentage points among registered voters.
AFP Photo/Olivier Lang