Unlike Presidential Rivals, Clinton Shunning Questions From Press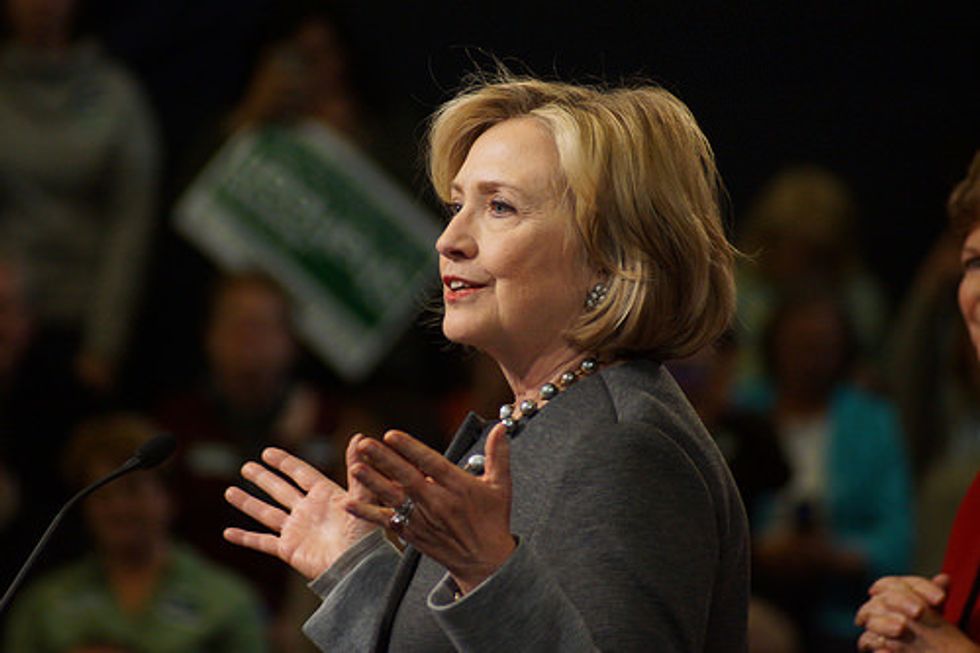 By Anita Kumar, McClatchy Washington Bureau (TNS)
WASHINGTON — After each of Hillary Clinton's campaign events, a large group of reporters gathers on one side of the room and shouts questions at her. She rarely responds, opting instead to ignore them, not even glancing in their direction.
Clinton has largely closed herself off from media questions in the first month of her campaign. Her refusal to take questions stands in stark contrast to virtually all other candidates in both parties, who routinely wade into a pack of reporters after events, often fielding more questions in one event than Clinton has so far in her entire campaign. They also are facing reporters in one-on-one interviews and appearing on TV news programs.
Republican Sen. Marco Rubio on his first day on the campaign trail in New Hampshire answered 10 questions from reporters trailing him, on subjects including running against his political mentor to the theory of evolution.
Business executive Carly Fiorina, also a Republican, went from her announcement of her campaign to a conference call with reporters, taking questions for 40 minutes.
And on the day he officially announced his candidacy this week, Bernie Sanders, the independent senator from Vermont who is running as a Democrat, took more questions from the media than Clinton had in the previous three weeks.
In total, Clinton has taken eight questions from the media since she entered the race April 12.
"She's not doing it because she really doesn't have to," said Brad Coker, managing director at Mason-Dixon Polling & Research in Jacksonville, Fla. He called it a "smart strategy" so early in the race when independents aren't paying attention, most Democrats support her and Republicans are busy with their own nomination fight.
"She has all the time in the world. … There's no urgency for Hillary to get engaged," he said.
Clinton has long had a tenuous relationship with the media, including the first time she ran for president in 2008, so her tactic isn't exactly surprising. But not long ago she hinted that things might be different this time. She even held a pair of events before her announcement so reporters could get to know her staff.
"You know, my relationship with the press has been at times, shall we say, complicated," Clinton said in late March when she headlined a journalism awards ceremony. "I am all about new beginnings. A new grandchild, another new hairstyle, a new email account … why not a new relationship with the press?"
Leonard Steinhorn, a political communications professor at American University in Washington, said the media need to take some responsibility for candidates refusing to engage, because reporters often ask so-called "gotcha" questions instead of substantive policy questions.
"There may be a reason Hillary Clinton has run from the media over the years," he said. "There's a lot of blame to go around."
Clinton's campaign declined to comment for this story.
Supporters stress that she has answered many questions from potential voters in the early nominating states of Iowa, New Hampshire and Nevada.
Jaime Harrison, chairman of the South Carolina Democratic Party, said Clinton has made the decision to engage with the public first and that reporters should be patient. "It's her campaign," he said. "This is how she wants to roll it out."
But those events are usually closed to the public, and the six or so participants are handpicked by either the campaign or the hosts, including businesses and schools.
Doug Heye, a veteran Republican communications strategist, said Clinton's campaign has clearly made the decision to avoid questions until the inquiries subside about her family foundation's decision to accept foreign donations and her practice of using private email as secretary of state.
"It's obviously a very strategic decision that they have made," Heye said. "There are obviously a lot of questions that the Clinton campaign doesn't want her speaking about."
In March, a few weeks before she announced she was running for president, Clinton held a hastily organized news conference — her first formal one in more than two years — to answer questions about her email after weeks of near silence. She has not talked about the issue since.
The eight questions Clinton has answered since declaring her candidacy were about a critical book written about her family's foundation, fundraising, the type of campaign events she is engaged in and trade.
(Lesley Clark, Sean Cockerham, David Lightman and Maria Recio in Washington and Patricia Mazzei of the Miami Herald contributed to this report.)
(c)2015 McClatchy Washington Bureau, Distributed by Tribune Content Agency, LLC.
Photo: Mark Nozell via Flickr