Weekend Reader: <i>JFK In The Senate: Pathway To The Presidency</i>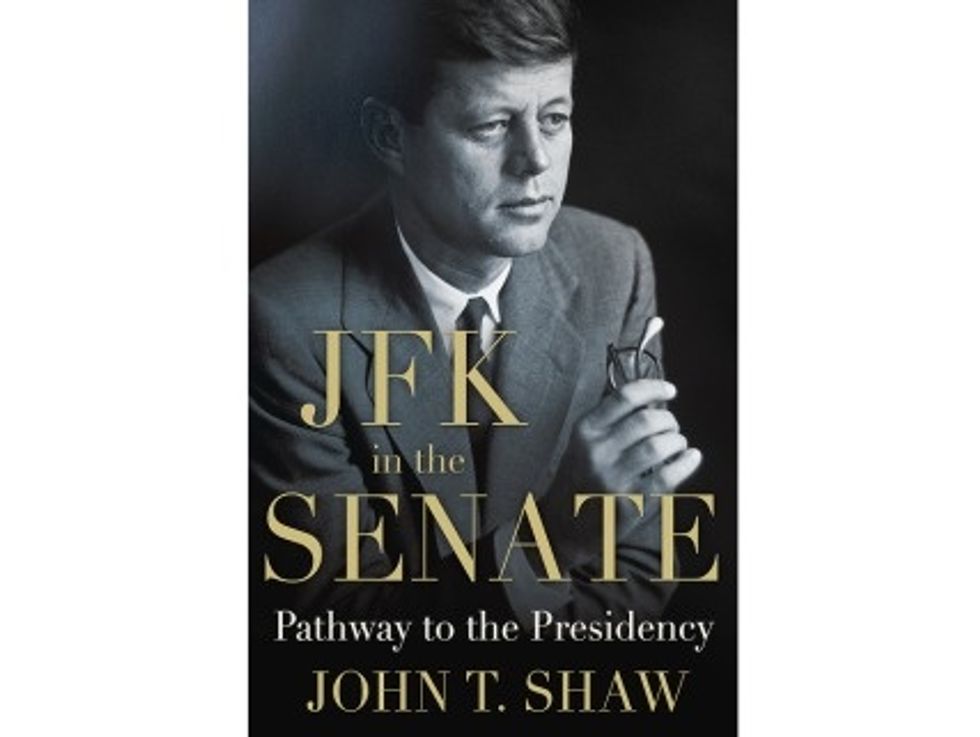 Today Weekend Reader brings you JFK In The Senate: Pathway to the Presidency, by congressional correspondent with Market News International and a Media Fellow at the Hoover Institution at Stanford University, John T. Shaw. Shaw focuses on JFK's career before he was elected president. Kennedy wasn't always the clear choice for the Democratic nomination, but his charisma and ambitions resonated with voters. Looking back 50 years after his death, we remember how Kennedy's rare determination and commitment to the American people moved him from the House of Representatives to the Senate, and put him on the path to win the 1960 presidential election. 
You can purchase the book here.
If 1956 was the year that Kennedy's national star started to rise, the following year it continued its dramatic ascent. Kennedy won the Pulitzer Prize in May 1957, and that same month the Kennedy Committee garnered headlines for its project to identify five outstanding senators in American history. Kennedy also participated in several high-profile foreign policy debates in the Senate on Algeria and Eastern Europe.
Speaking invitations poured in from across the country for the newly minted star of the Democratic Party. Kennedy received more than 2,500 invitations in 1957 and delivered nearly 150 speeches in 47 states. He was on the road constantly, meeting with state and local officials and the delegates who would determine his party's next presidential nominee. "Since national politics was only people, the Kennedys set out from 1956 on to learn who the people were; the right people," wrote Theodore White. Kennedy was compiling "possibly the most complete index ever made of the power structure of any national party," White said. Kennedy and his team assembled files on 50,000 Democratic leaders and party members, keeping contact information on 3-by-5 cards.
Lawrence O'Brien, one of the senator's top campaign aides, traveled frequently with Kennedy and marveled that none of his likely competitors for the Democratic nomination could be found on the campaign trail. "As I look back on my travels, the thing that amazes me is that we had the field almost entirely to ourselves," O'Brien later reflected. "I kept waiting for the opposition to show up, but it never did." He was also stunned that other politicians underestimated Kennedy. "His opponents never discovered just how tough, gutty and ringwise he was until it was too late." O'Brien was intrigued by Kennedy's public persona. The senator, he said, was not a natural politician; he was a reserved and private person, but would force himself to do what was necessary to succeed. "Kennedy had talent and he worked hard to perfect it; above all, he was a proud man who took intense pride in every aspect of his work."
To maintain his national profile, Kennedy's office generated a slew of articles with Kennedy's byline. Sorensen drafted and edited many of the articles, book reviews, guest editorials, and speeches that were published under Kennedy's name. Prominent essays by Kennedy appeared in Foreign Affairs, New York Times Magazine, Reader's Digest, Life, and Look. Many of them positioned Kennedy as a modern, forward-leaning leader who was well versed in American history. The nation's newspapers and magazines couldn't get enough of Kennedy or his family. In 1957 alone, Kennedy was the subject of major profiles in McCall's, the Saturday Evening Post, Catholic Digest, and U.S. News and World Report.
Time ran a cover story on Kennedy in December 1957 that gave him the kind of national exposure that most politicians only dream of. "In his unannounced but unabashed run for the Democratic Party's nomination for President in 1960, Jack Kennedy has left panting politicians and swooning women across a large spread of the U.S.," the article gushed. It noted that as he crisscrossed the country, Kennedy spoke to groups that included the American Gastroenterological Association in Colorado Springs, the Arkansas
Bar Association in Hot Springs, the Friendly Sons of St. Patrick in Philadelphia, and the American Jewish Congress in New York City. "Kennedy imparts a remarkable quality of shy, sense making sincerity," the Time story said.

In the article Kennedy spoke candidly about the difficulty of moving from the Senate to the presidency. "The Senate is just not the place to run from. No matter how you vote, somebody is made happy and somebody unhappy. If you vote against enough people you are dead politically. If you vote for everybody, in favor of every appropriation but against every tax to pay for it, you might as well be dead politically, because you are useless," he told Time. In evaluating his prospects for capturing the Democratic nomination and winning the presidency, the article said Kennedy's chief barriers were his age, his religion, and his position in the Senate, which gave him an important platform but also forced him to cast votes that might pose problems on the campaign trail.
Kennedy also increased his visibility as a regular guest on Washington's Sunday TV news shows, such as NBC's Meet the Press, CBS's Face the Nation, and ABC's Issues and Answers. He narrated two programs that the popular television show Omnibus produced on the Middle East. He was becoming the face and voice of the Democratic Party. Jack Gould, a TV critic, called Kennedy "the most telegenic person in public life." Columnist Marquis Childs said Kennedy's political ascent was remarkable. "Seldom in the annals of this political capital has anyone risen as rapidly and as steadily in a presidential sweepstakes as Jack Kennedy."
III
Throughout 1958, Kennedy continued his relentless drive for the 1960 Democratic nomination, working aggressively to build contacts across the country. He also made sure that he won his Senate reelection race with sufficient decisiveness to send a message to national political operatives that he was a force to be reckoned with. He continued to travel widely, delivering more than 200 speeches in 1958 and building a nationwide organization as well as an academic brain trust to develop new policies. Kennedy was aggressive, detailed-oriented, and savvy. Fully aware that his political base was, as Sorensen called it, "tiny New England," Kennedy traveled the nation, seeking supporters at state capitals, state fairs, high school gyms, union halls, armories, and coffee shops. "No one had ever worked so hard and so long, and reached so far into the remote corners of the Republic, in a bid for the nation's highest office," wrote journalist Hugh Sidey.
Kennedy's attention to detail can be gleaned from his preparation for the Gridiron dinner in the spring of 1958. Held at Washington's Statler-Hilton hotel, this annual event is attended by leading journalists and politicians and remains an important political ritual. Kennedy was invited to be the featured speaker and took seriously the challenge of being funny to this distinguished and influential audience. He assembled an informal team to review his remarks and vote on what jokes were most appropriate and amusing. He sent drafts to journalists Marquis Childs and Fletcher Knebel, attorney Clark Clifford, historian Arthur Schlesinger Jr., and his own father, among others. They each made edits and voted on more than 100 possible jokes. "Please feel free to cut any and all, particularly anything you think unfunny, inappropriate to the occasion or my style, or too broad, too mean, or too petty," Kennedy wrote to his chosen reviewers. "If you think a particular line should be kept, but in a different context, please indicate."
His father sent an immediate response, praising the draft but offering blunt advice. "The fact that the entire audience is made up of Washington newsmen is important because the guests will be a little slower on the uptake," Joe Sr. said, revealing his low opinion of journalists. He suggested his son speak slowly and give his audience plenty of time to absorb the joke and then laugh. "You ordinarily tell a story very well, but this is a crowd that can be entertained very easily if you keep smiling whenever you take a crack. I am sure that you have a fine speech here."
Kennedy's meticulous preparation was rewarded. Skilled at self-deprecation, he poked fun at himself, his wealth, and his father—all in his opening lines. "I have just received the following wire from my generous daddy," Kennedy began. "'Dear Jack, Don't buy a single vote more than is necessary. I'll be damned if I'm going to pay for a landslide.'" He went on to tease Sherman Adams, Eisenhower's chief of staff; Lyndon Johnson; Richard Nixon; the press; and of course his fellow senators. He joked that a recent poll was sent to all 96 senators asking for their presidential preferences. It yielded unsurprising results, Kennedy quipped. "Ninety-six senators received one vote." Adhering to the recommended format, Kennedy ended his remarks with a serious reflection. "Can a nation organized and governed such as ours endure? Have we got the nerve and the will?" he asked, referring to the United States' Could War standoff with the Soviet Union. "We are moving ahead along a knife-edged path which requires leadership better equipped than any since Lincoln's day to make clear to our people the vast spectrum of challenges."
If you enjoyed this excerpt you can purchase the full book here.
FromJFK in the Senate, by John T. Shaw. Copyright © 2013by the author and reprinted by permission of Palgrave Macmillan, a division of Macmillan Publishers Ltd.