Rep. Jordan Named In Ohio Sexual Abuse Lawsuit
@EricBoehlert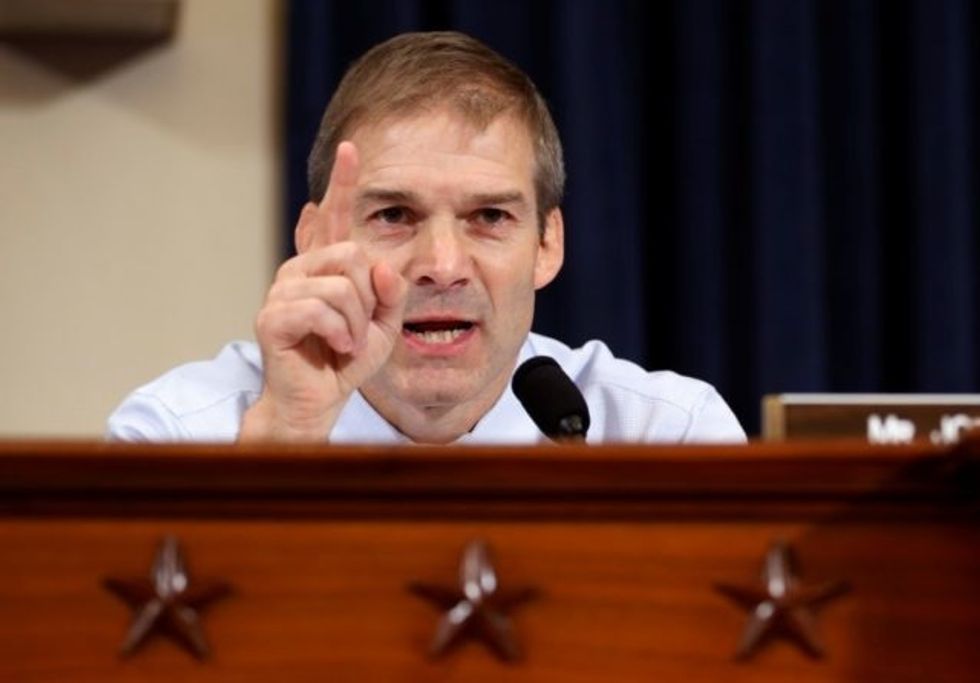 Reprinted with permission from Shareblue.
Rep. Jim Jordan (R-OH), co-founder of the ultra-conservative House Freedom Caucus and a top Trump defender in Congress, has just been named in a new class action lawsuit for his role in the ongoing scandal over sexual abuse at Ohio State University.
In recent weeks, nine former OSU wrestlers have come forward to allege that when Jordan worked as their wrestling coach, he knew that students were being sexually abused by the team doctor — yet stood by and did nothing.
Filed in the U.S. District Court in Ohio Tuesday on behalf of an as-yet-unnamed former OSU wrestler, the lawsuit seeks to represent hundreds of OSU student-athletes who suffered abuse over the two decades that Dr. Richard Strauss worked at the university.
As Rolling Stone reports, the anonymous lead plaintiff "says he was groped, assaulted and molested at least 20 times."
Jordan is mentioned several times in the lawsuit as an example of an OSU official who turned a blind eye to the abuse.
Prior to joining Congress, Jordan worked as an assistant OSU wrestling coach from 1987 to 1995, during the same time that Dr. Richard Strauss worked as a doctor for the OSU athletic department.
Strauss killed himself in 2005, but in recent years, widespread allegations have emerged that Strauss assaulted and molested athletes.
A law firm is currently overseeing a full-scale investigation of the charges on behalf of the university. OSU admits there have been "confidential reports of sexual misconduct committed by Strauss from former varsity men student-athletes in 14 sports."
Former OSU wrestlers allege that Jordan, as a wrestling coach, knew about the Strauss misconduct and did nothing to protect the athletes.
"I considered Jim Jordan a friend," said Mike DiSabato, a former wrestler who says he was abused. "But at the end of the day, he is absolutely lying if he says he doesn't know what was going on."
"There's no way unless he's got dementia or something that he's got no recollection of what was going on at Ohio State," said UFC wrestling champion and former OSU wrestler Mark Coleman.
Jordan, a fierce Trump defender who has run interference for Trump on the House Russia probe, has insisted he knew nothing about the abuse.
Jordan and his political allies in the Republican Party and the far-right media have instead claimed that there's a 'deep state' plot to get the congressman, and that somehow his former wrestlers are part of a nefarious smear campaign.
Trump has tweeted his support of Jordan in the face of escalating allegations: "No question in my mind. I believe Jim Jordan 100%."
Outside of the GOP and Fox News bubble however, few people are buying Jordan's denials.
Over the weekend, Ohio's largest newspaper, The Cleveland Plain Dealer, published a scathing editorial that poked holes in Jordan's cover story about his time at OSU.
"Jim Jordan needs to do a gut check and reconsider his denials," the editorial read.
With this new lawsuit, however, Jordan now has bigger worries than public condemnation.
Published with permission of The American Independent.