Sheriff Blasts Trump For Lies About Crime In El Paso
@alexvhenderson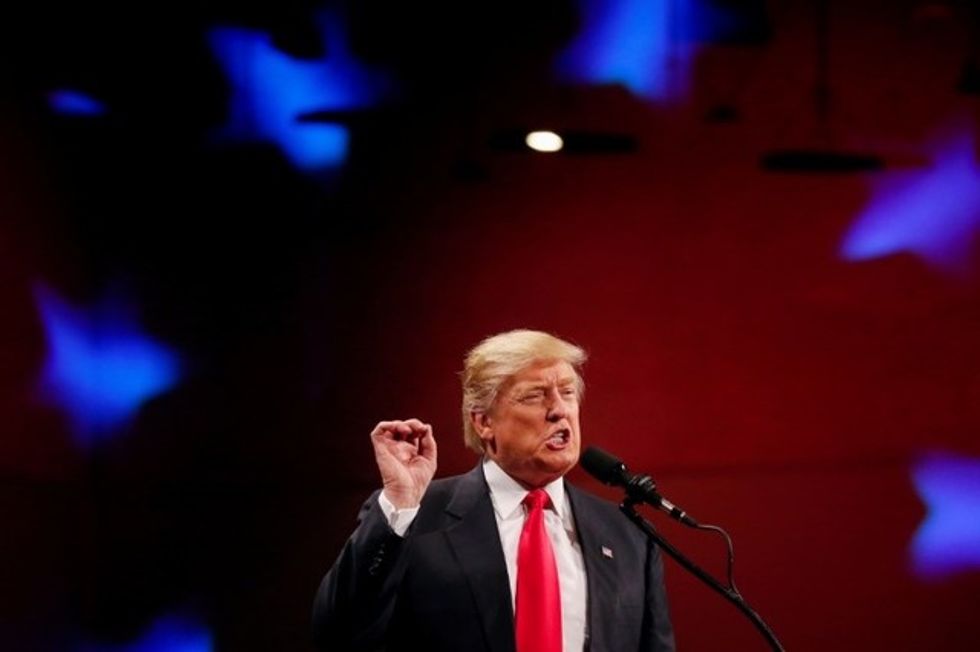 Reprinted with permission from AlterNet.
When President Donald Trump was arguing in favor of a U.S./Mexico border wall during his 2019 State of the Union speech, he cited El Paso, Texas as an example of the safety a wall can bring—and according to El Paso County Sheriff Richard Wiles, Trump's comments were totally misleading.
Trump, during his 90-minute speech, claimed that El Paso went from being one of the most dangerous cities in the United States to being one of the safest. And an indignant Wiles responded that in fact, the West Texas city has long been known for its lower crime rates.
In an official statement, Wiles stressed, "It is sad to hear President Trump state falsehoods about El Paso, Texas in an attempt to justify the building of a 2000-mile wall."
Wiles continued, "The facts are clear: while it is true that El Paso is one of the safest cities in the nation, it has never been 'considered one of our nation's most dangerous cities.' And, El Paso was a safe city long before any wall was built."
The sheriff concluded, "President Trump continues to give a false narrative about a great city that truly represents what this great nation is all about."
Statement from El Paso Sheriff Richard Wiles pic.twitter.com/SSqmRSWMix

— Morning Joe (@Morning_Joe) February 6, 2019
When Trump discussed El Paso's past, he sounded like he was describing Ciudad Juarez across the border in Northern Mexico. Juarez has suffered from an abundance of violence involving rival drug cartels, but El Paso has long had some of Texas' lower crime rates.
In January, Texas Attorney General Ken Paxton, a Republican, made the same argument that Trump made last night: that enhanced fencing lowered El Paso's crime rate. But Paxton's claim was debunked by an El Paso Times article published on January 10. Using FBI and El Paso Police Department statistics for the 1990s and beyond, the Times' Madlin Mekelburg reported that "between 1993 and 2006, the number of violent crimes fell by more than 34%"—and construction for the El Paso-area border fencing that was authorized under the George W. Bush Administration in 2006 didn't begin until 2008.
In other words, FBI and El Paso Police Department statistics show no correlation whatsoever between El Paso's decrease in crime and additional border fencing in that area.
CNBC's Christina Wilkie discussed Wiles' response to Trump's claims on Twitter, posting, "Sheriff of El Paso refutes the entire argument Trump is making" about "the wall and crime in that city. Trump will go to El Paso in person next week and argue that the wall solved their crime problem. Only El Paso never had a crime problem."
Sheriff Wiles isn't the only Texan who is calling Trump out for his statements on El Paso. After the president's State of the Union address, Democratic Rep. Veronica Escobar of El Paso tweeted, "He lies. @POTUS is once again lying and using the #SOTU address to spread falsehoods about our beloved city of El Paso. Fact is that El Paso has been one of the safest cities in the nation long before the wall was built in 2008. #WallsDontWork."
Republican Jon Barela (a former top aide to New Mexico Gov. Susan Martinez) tweeted, "President's message about El Paso is a lie. El Paso was safe before the border wall. The President is living in an alternative universe based on a false narrative and offensive comments about our way of life. I say this as a lifelong Republican, businessman, and proud American."