Trump Pleads The Fifth In New York State Probe Of His Company (VIDEO)
@Brandi_Buchman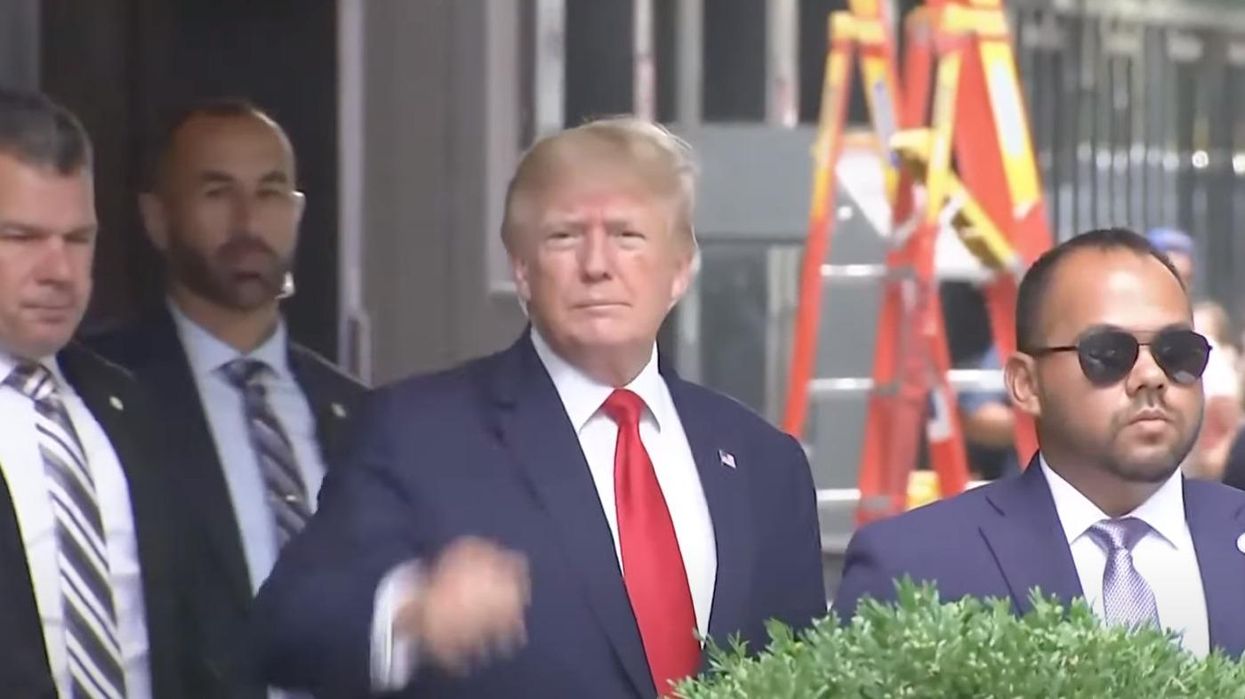 Youtube Screenshot
Former President Donald Trump invoked his Fifth Amendment right against self incrimination on Wednesday when he was deposed by lawyers at the New York Attorney General's office investigating whether the Trump Organization defrauded or misled lenders by tweaking the value of his properties and assets.
New York Attorney General Letitia James, who is leading the civil probe of Trump Organization, did not immediately respond to a request for comment on Wednesday. In a statement released shortly after he appeared, Trump defended his decision to invoke the right after years of insisting that only guilty parties plead the Fifth when under questioning.
Before Wednesday's deposition, Trump previously invoked the right in the 1990s when he was divorcing Ivana Trump. He did not wish to answer questions about adultery.
Trump famously remarked in at a campaign rally in 2016 before becoming president: "You see, the mob takes the Fifth. If you're innocent, why are you taking the Fifth Amendment?"
In his public statement Wednesday, Trump cited this remark—but only in part.
"I once asked, 'If you're innocent why are you taking the Fifth Amendment?' Now I know the answer to that question. When your family, your company and all the people in your orbit have become the targets of an unfounded, politically motivated Witch Hunt supported by lawyers, prosecutors and the Fake News Media, you have no choice," he wrote.
To be clear, the Fifth Amendment is a constitutionally protected right afforded to all Americans and in court, lawyers cannot argue that silence equates to guilt.
Trump's silence is a smart legal maneuver given the current dynamic. In addition to the civil probe of his real estate dealings, a criminal probe investigating similar issues led by Manhattan District Attorney Alvin Bragg is still open, making his comments to attorneys fair game for use in either investigation. Bragg's criminal investigation has stagnated according to multiple reports in recent weeks and months, but it is not officially closed.
Ahead of his appearance, Trump slammed the attorney general online and the attacks kept coming in his public statement Wednesday.
James has been a fierce, unabashed critic of the former president and when she ran for the attorney general role she labeled Trump "incompetent," "ill-equipped" and said she believed "he is an embarrassment" to America and what it stands for.
In 2018, she said: "America is in uncharted territory. We are angrier and more deeply divided than we've ever been at any point in our history since the Civil War. And at the eye of the storm is Donald Trump, ripping families apart, threatening women's most basic rights. I'm running for attorney general because I will never be afraid to challenge this illegitimate president when our fundamental rights are at stake."
James's probe is reaching its end after more than two years of scrutiny of Trump and Trump Organization. The former president's daughter, Ivanka Trump, and son, Donald Trump, Jr. have testified in the civil matter. So too has Eric Trump, the executive vice president of the eponymous family business. According to James, when Eric Trump was deposed in October 2020 he invoked his Fifth Amendment right over 500 times and would only answer the most basic background questions. He sat for six hours.
Trump Organization's chief financial officer, Allen Weisselberg, invoked the Fifth too when he was deposed in September 2020. Last July, prosecutors charged Trump Organization and Weisselberg with grand larceny and tax fraud. Both he and the company have entered not guilty pleas and pretrial proceedings are expected to get underway on Friday.
The battle for Trump's deposition has been a lengthy one.
Trump was held in contempt by New York Supreme Court Judge Arthur Engoron in April for his failure to comply with the state attorney general's subpoena. That order was lifted this June when Engoron said Trump's legal team had finally produced documents at the last minute. For his contempt, however, Trump still had to shell out $110,000 in penalties. The funds are now sitting in escrow and will be released pending the case's outcome.
The former president maintains he is innocent and that the valuations on his properties were above board. James claims that Trump and the Trump Organization regularly inflated values to reap in tax and loan benefits. Often, she has claimed, Trump Organization would tweak the values by several millions of dollars.
For instance, James claimed Trump's valuation of the Trump International Golf Club in Scotland was wildly off. Where Trump Organization originally valued the resort at $12.6 million when it was first purchased in 2006, in the span of five years, the valuation became $161 million. According to court records, James said this valuation was not ginned up by professional appraisers. Rather it was George Sorial, a former Trump Organization executive, who set the price.
Trump has had an eventful week thus far: After securing a warrant, the FBI searched his Mar-a-Lago property in Florida, reportedly seeking classified presidential records that he allegedly failed to return under terms of the Presidential Records Act. The House Ways and Means Committee also successfully gained access to Trump's tax returns after a years-long fight though he can still appeal. And the Jan. 6 Committee has continued its work quietly as the Department of Justice also quietly continues its probe into Jan. 6.
In a criminal proceeding, we cannot draw a negative inference if a person invokes the Fifth Amendment right against self-incrimination. In a civil case, and the court of public opinion, we can absolutely draw a negative inference.

What is Trump hiding? https://t.co/aR6j0aMqM1
— Ted Lieu (@tedlieu) August 10, 2022
Reprinted with permission from Daily Kos.